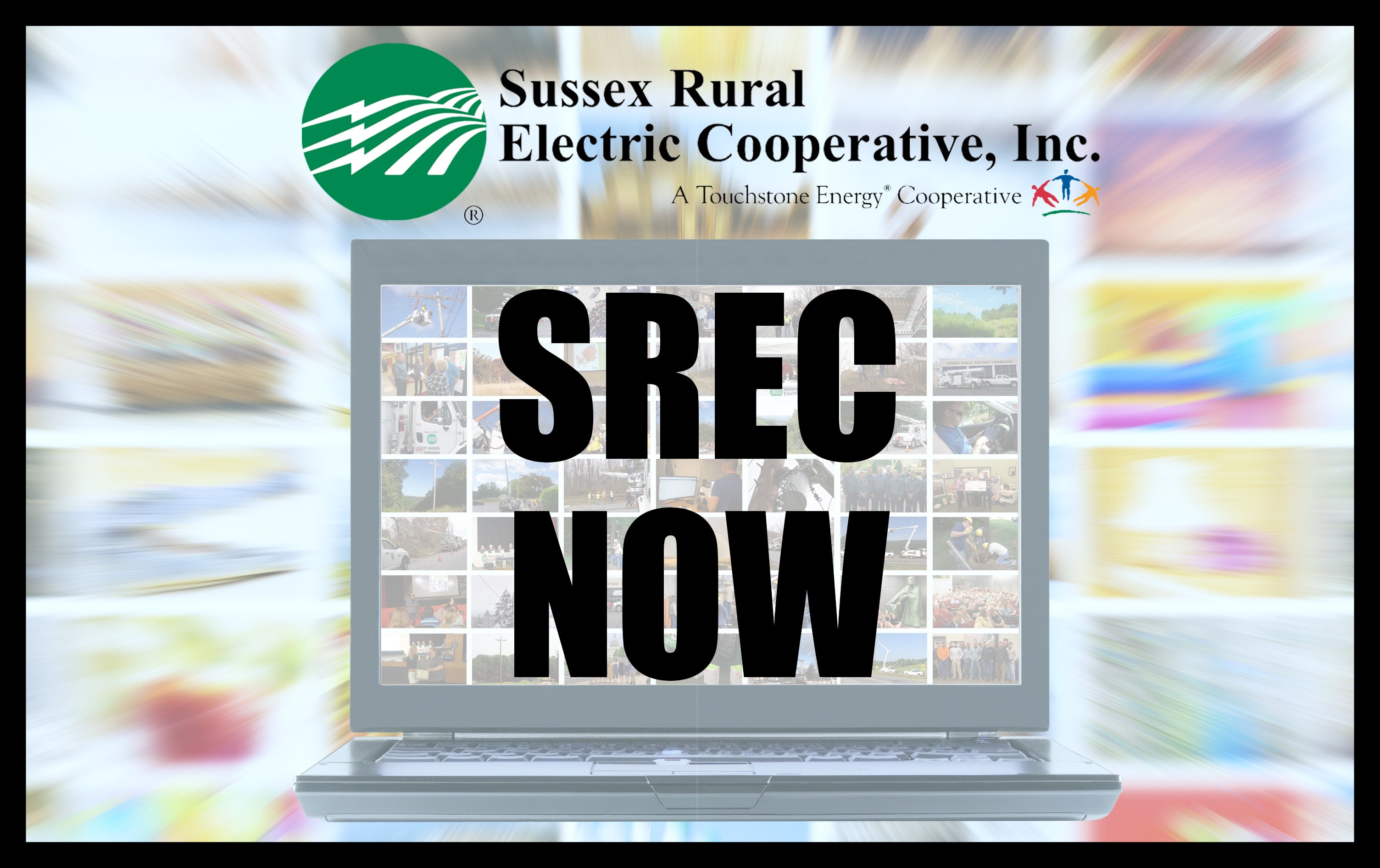 SREC NOW is your hub for large-scale events (such as system-wide outages, natural disasters, pandemics, or other events) that affect our membership and our employees. Here you can find updates and information regarding the Cooperative's status and operating hours, as well as updates on ongoing outages.
The current pandemic and national State of Emergency has affected Sussex Rural Electric Cooperative's usual operating procedures.
At the moment, Sussex Rural Electric Cooperative's office is closed to the public until further notice. As of Thursday, March 19, Sussex Rural Electric Cooperative has instituted a work from home program which a majority of employees are participating in. This is a preemptive move to reduce risk of infection among our members and our employees.
If you have any questions, you will still be able to reach employees by phone or email, and updates will continue to come via our Facebook, Twitter, and email alerts, as well as being posted to the website on this page. You can report an outage by calling in at 973-875-5101, and our call center can still be reached 24/7 at 877-504-6463.
We understand that this is a stressful time for everyone, including our members. If you have issues with paying your bill, please call our office or email billing@sussexrec.com and someone from our billing department will speak to you regarding an arrangement if necessary.
Ongoing updates to the pandemic situation and any major outages will be shared below.
---
Thursday, February 25, 2021
(4:15 pm, 2/25/21) - We have received phone calls from two members stating they were called by a person who explained that SREC and PSEG have merged and they needed to pay for a new meter. The caller left a toll-free phone number. This is a scam! We have not merged with another company and we would not call you and tell you that you must pay for a meter. Always feel free to contact us if you ever question a call about SREC or your electric service.
Friday, November 20, 2020 - Youth Tour 2021 Canceled
(9:30 am, 11/20/20) - Due to the ongoing coronavirus pandemic, we must announce that Youth Tour 2021 has been canceled. Due to this, Sussex Rural Electric Cooperative will not be accepting applications from 2021 high school juniors to partake in this program. Youth Tour is scheduled to return in the summer of 2022.
Monday, November 16, 2020 - Outage Update
(2:30 am, 11/16/20) - As winds continue to sweep through our service territory, SREC crews are working to clear outages at multiple locations. Over 1,000 members have just had their power restored as crews finished clearing and repairing a broken pole on Upaway Drive in Vernon that was the result of a fallen tree.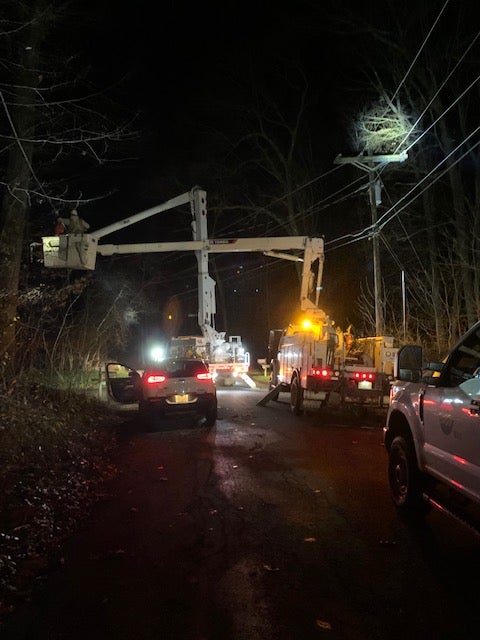 Tuesday, October 13, 2020 - Employees Back In The Office
(8:00 am, 10/13/20) - As of Tuesday, October 13, 2020, the majority of our employees are once again working in our office full-time. In March, about half of our staff members were shifted to a work-from-home model as a precaution against the coronavirus pandemic. Our employees who remained in the office full-time, largely our Engineering, Operations, and Line departments, and well as some management, adhered to new rules and schedules consistent with social distancing guidelines.
The majority of our staff is now back in the office, and we have taken additional precautions to limit exposure. Employees are adhering to a six-foot distancing rule and reducing time spent in common areas, and making use of newly installed hand sanitizer dispensers and motion-detecting sinks.
Our office remains closed to the public. If a member needs to reach us, they can call our office at 973-875-5101, submit an email to info@sussexrec.com, or message us on one of our social media platforms like Facebook or Twitter. To pay your bill, please continue to make use of our office's night drop box or mail in your paid bill to 64 County Route 639, Sussex, NJ 07462. You can also take advantage of our online bill pay system.
Friday, August 7, 2020 - Tropical Storm Isaias Update #10
(5:30 pm, 8/7/20) - As you can see, tree crews are still up on Alamoosook Road in Highland Lakes with the crane we've had to enlist to move a large, fallen tree.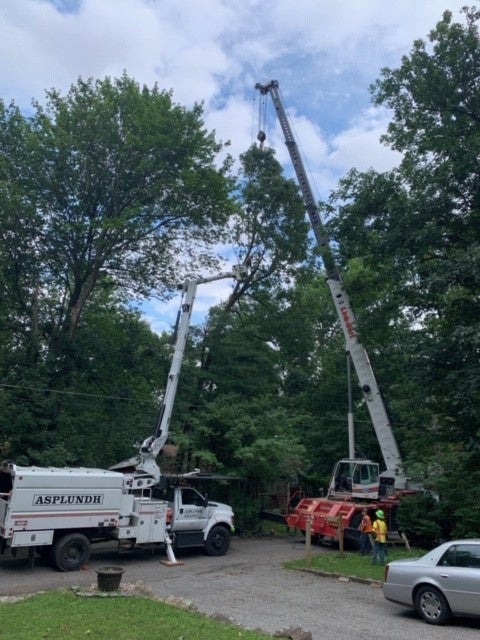 We are anticipating the last 16 members affected by this outage will have their power restored this evening.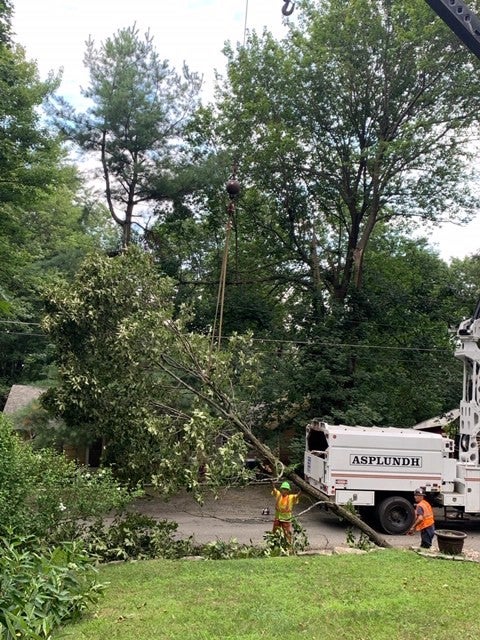 Friday, August 7, 2020 - Tropical Storm Isaias Update #10
(11:30 am, 8/7/20) - This morning as of 11:00 am, we are down to just 19 homes without power. 16 are out due to extensive tree damage that we have had to bring in a crane to assist with. Our crews worked with the crane yesterday and today but a specially trained technician has now been called in to do work suspended by the crane. This is not something any of our crew members can or should do so, unfortunately, the work with the crane will continue into this evening for those 16 affected members.
The remaining 3 members not affected by the tree off of Alamoosook Road should be restored this afternoon. Thank you to everyone for your patience.
Thursday, August 6, 2020 - Tropical Storm Isaias Update #9
(9:30 pm, 8/6/20) - As of 9 pm, we now have 86 members without power. Our crews are still replacing broken poles throughout our service territory. All large outages of 50 or more members have been dealt with and power has been restored. We are now working on outages affecting 1-37 members.
Crews are concentrating on restoring the remaining members currently without electricity. We are hoping to get some more homes restored tonight, but at least 20 homes will remain out overnight due to work we had to bring a crane in for. With the loss of daylight, the crane work could not continue. Our crews will keep working alongside the crews from Pennsylvania and our tree crews. We anticipate, barring things beyond our control, full restoration by tomorrow evening.
Thursday, August 6, 2020 - Tropical Storm Isaias Update #8
(4:30 pm, 8/6/20) - Currently we have less than 100 members without power. Our crews will still be working well into the evening on repairs. At this point most of the work will be replacing broken poles.
Replacing poles, especially in areas where we have hit rock or new holes need to be drilled, can be tedious and time-consuming work. We anticipate less than 100 members will remain out overnight, which is no consolation for those members but a sign that we are making excellent progress.
There are issues such as wires down and trees leaning that will be addressed after everyone is restored. Thank you for your words of encouragement shared on social media and by email. we will have another update at 9 pm.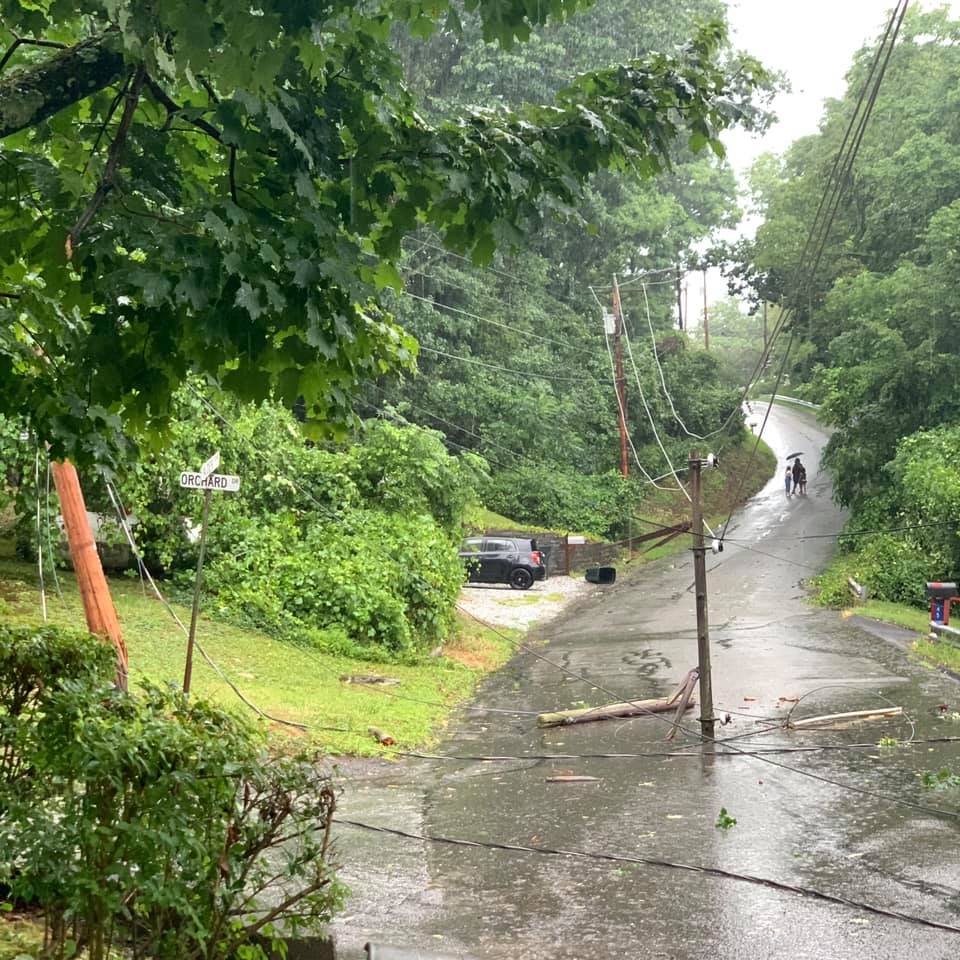 Member Ken Cooper from Lake Neepaulin took this photo of a broken pole. The pole damage was mainly caused by tall trees that have come down across the territory, from well out of our right of ways.
Thursday, August 6, 2020 - Tropical Storm Isaias Update #7
(9:00 am, 8/6/20) - As of this morning, we have 629 members out of power. Our crews are being assisted by 20 additional linemen with trucks and equipment from Pennsylvania. PA crews have been arriving from the first day of the storm up until last night at 2 am.
Boots are on the ground (and up in buckets, and climbing poles) all over our service territory to take on the remaining outages. We will continue to work until all of our members' power is restored.
Wednesday, August 5, 2020 - Tropical Storm Isaias Update #6
(6:00 pm, 8/5/20) - We now have 1,600 members without power. Due to the amount of broken poles, we were only able to fix nine of the original eighteen "large" (over 50 members) outages today.
With the help of our crews, our tree contractor Asplundh, and the Pennsylvania cooperative crews, we were able to restore over 1,400 members today. We have additional crews and equipment on its way from Pennsylvania. We are still anticipating the remaining larger outages to be restored by tomorrow at 11 pm and the smaller outages to be restored by Friday.
Our crews are working hard and will continue to do so. Thank you all for your patience. Please remember to not touch, go near, or drive over downed wires.
Wednesday, August 5, 2020 - Tropical Storm Isaias Update #5
(2:30 pm, 8/5/20) - We have 2,700 members without power at the moment. We have repaired 12 of the 18 largest outages but have run into a lot more broken poles in Highland Lakes than first reported. Our crews and the crews from Pennsylvania continue to work on making advances.
Due to the amount of trees to clear up and poles that need to be replaced, at this time we feel that most of Highland Lakes will not be restored by 11 pm as originally estimated. Instead, we are now projecting restoral will be tomorrow by 7 pm. For the other outages, our projections have been pushed back to 7 pm on Friday.
We have additional crews and digger trucks on their way to help replace the poles that were broken in the storm. We will make our next update at 6 pm.
Wednesday, August 5, 2020 - Tropical Storm Isaias Update #4
(9:30 AM, 8/5/20) - Currently we have 3,800+ members out. Our crews are out right now alongside two crews from Pennsylvania, and two more crews from Pennsylvania co-ops are on their way.
We have 18 large outages that affect 50 or more members. We are hoping to restore power to those affected by these outages in Highland Lakes, Barry Lakes, Lake Neepaulin, Vernon, and Wantage by 11 pm tonight. The remaining outages will be resolved tomorrow.
Tuesday, August 4, 2020 - Tropical Storm Isaias Update #3
(9:30 PM, 8/4/20) - We are still working on widespread outages caused by downed trees and broken poles. We currently have 43 separate outages, affecting 3,843 members.
The current estimated time of restoral for the 18 largest outages (affecting over 50 members) is 11 PM Wednesday evening. These include (but are not currently limited to) Highland Lakes, Barry Lakes, Vernon, Lake Neepaulin, and Wantage. The estimated time of restoral for the remaining outages is 7 PM Thursday evening. Crews from PA will be arriving to help us as we move forward.
Our outage map is back up and we are amending estimated times to be as accurate as we can predict. If the outage map is not working for you, clear your cache or use a different browser.
Tuesday, August 4, 2020 - Tropical Storm Isaias Update #2
(7:00 PM, 8/4/20) - The problem with our online outage map has been resolved. Members can now visit outages.sussexrec.com to see how our service territory is being affected by the ongoing outage. At the moment, around 3,000 members are without power, mostly in Vernon.
We have crews on the way from our sister cooperatives in Pennsylvania who will be assisting our crews in repairing the damage caused by Tropical Storm Isaias.
Tuesday, August 4, 2020 - Tropical Storm Isaias Update #1
(4:30 PM, 8/4/20) Tropical Storm Isaias came through our service territory with heavy rains and strong winds. There are many uprooted trees, downed lines, and broken poles. Because of the amount of poles damaged, some of our members may not have power restored until tomorrow.
Our tree and line crews are out in the field right now. We also have crews coming in from Pennsylvania to assist. We ask for patience while they work to restore power.
We are aware that our online outage map is currently offline. Out IT department is working to resolve the issue.
Tuesday, August 4, 2020 - Tropical Storm Isaias Notice
(9:17 AM, 8/4/20) Tropical Storm Isaias is expected to impact our service territory later this morning, persisting for most of the day. At this time a Tornado Watch has been issued for our area. Our line crews and tree crews are ready for the storm. We are expecting high winds and heavy rainfall. If you experience an outage, call us at 877-504-6463.
Sunday, June 28, 2020 - Outage Update
UPDATE: Power has been restored to all members. Thank you for all the supportive messages.
A widespread outage occurred after severe storms rolled through our territory. Our outage map shows multiple outages, but they are likely one outage. A tree has come down on a transmission line affecting members in Frankford, Lafayette, Hardyston, and Wantage. We will try to isolate the problem and restore power to as many members as safely possible. Our crews are on scene and we will post an update when we have more information.
Friday, May 22, 2020 - Annual Meeting Cancellation
Currently, Sussex Rural Electric Cooperative's offices remain closed to the public with most of our employees working remotely. Based on current circumstances, the state's stay at home order, and the ban on large gatherings, and factoring in the amount of time we need to plan for it, we are canceling our 83rd Annual Meeting of Members that had been scheduled for June 8, 2020. This is the first time that Sussex Rural has had to cancel its annual meeting dating back to the incorporation of the Co-op in 1937.
Since we cannot be certain what fall will bring, postponement is not an option and so the Board of Directors has canceled the meeting entirely. The purpose of our annual meeting is to report to the members the condition of the cooperative for the previous fiscal year and to announce the election results of board directors. Although we will not be meeting, our Annual Report will still arrive to all members with the May bill or it can be viewed on our website. We will announce the results of the election by social media and encourage you to send in your ballots by May 29, 2020 to complete our election process.
Electric service is not optional. Like a sufficient supply of food and water, reliable electricity is critical, especially in times like this. Not only to ensure your health and safety but also to provide power to your virtual classrooms and offices as we stay in our homes. Please know that Sussex Rural Electric has taken all safety precautions and follows all federal and state guidance in protecting its employees and its members while continuing to stay open and in business, keeping the lights on.
We would not have believed it if we were told in January that in two months we would be spending weeks under orders to stay at home, local businesses and all schools would be closed, travel would grind to a halt, and that our 83rd Annual Meeting would be canceled. But the unbelievable has become our shared reality. Our families, our community, and our Cooperative will no doubt feel the effects of this pandemic for a long time to come, in ways we have not yet even anticipated.
Your electric cooperative is working diligently with respect for you in mind. We will continue evaluating the pandemic status to determine our future decisions and course of action. We know you rely on safe, reliable electric service, and we will continue doing our best to serve you. Please stay safe and stay healthy.
Monday, April 13, 2020 - Outage Update #2
Our crews are still out finishing up the outages caused by this afternoons' storms. We needed a crane to lift this tree in Highland Lakes which is the cause of 87 members out. This tree also broke two poles owned by the telephone company. Once the tree is safely lifted and removed, the telephone company can replace their two poles and then we can transfer our electric onto the poles and power can be restored. Unfortunately, these members lost their power before noon today and may not get it back until after midnight. This was a long day for our crews and members who experienced outages.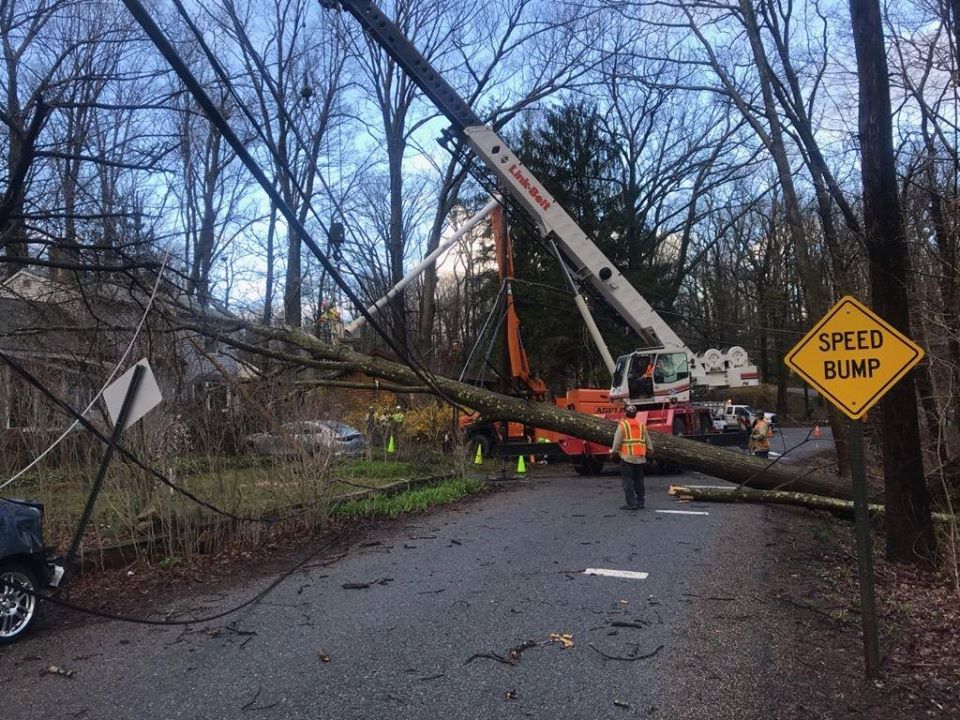 Monday, April 13, 2020 - Outage Update #1
Currently SREC is experiencing outages scattered throughout our territory. This powerful storm system has already affected over one million people as it moves across the south and now the northeast. Over 30,000 people are without power in the State of NJ. The high winds are predicted to continue throughout the day. With the ground being so soft, as it has been saturated with rain, we expect more trees to fall. Our crews are working safely and NJ's executive orders about the coronavirus are not limiting us in our power restoration work. As more of our members are home we ask for patience. We will update outage restoration times for individual outages as crews get to the sites and evaluate the causes and problems. SREC Line Superintendent Steve Quinn provided the picture below of the cause for the outages in Frankford and Branchville.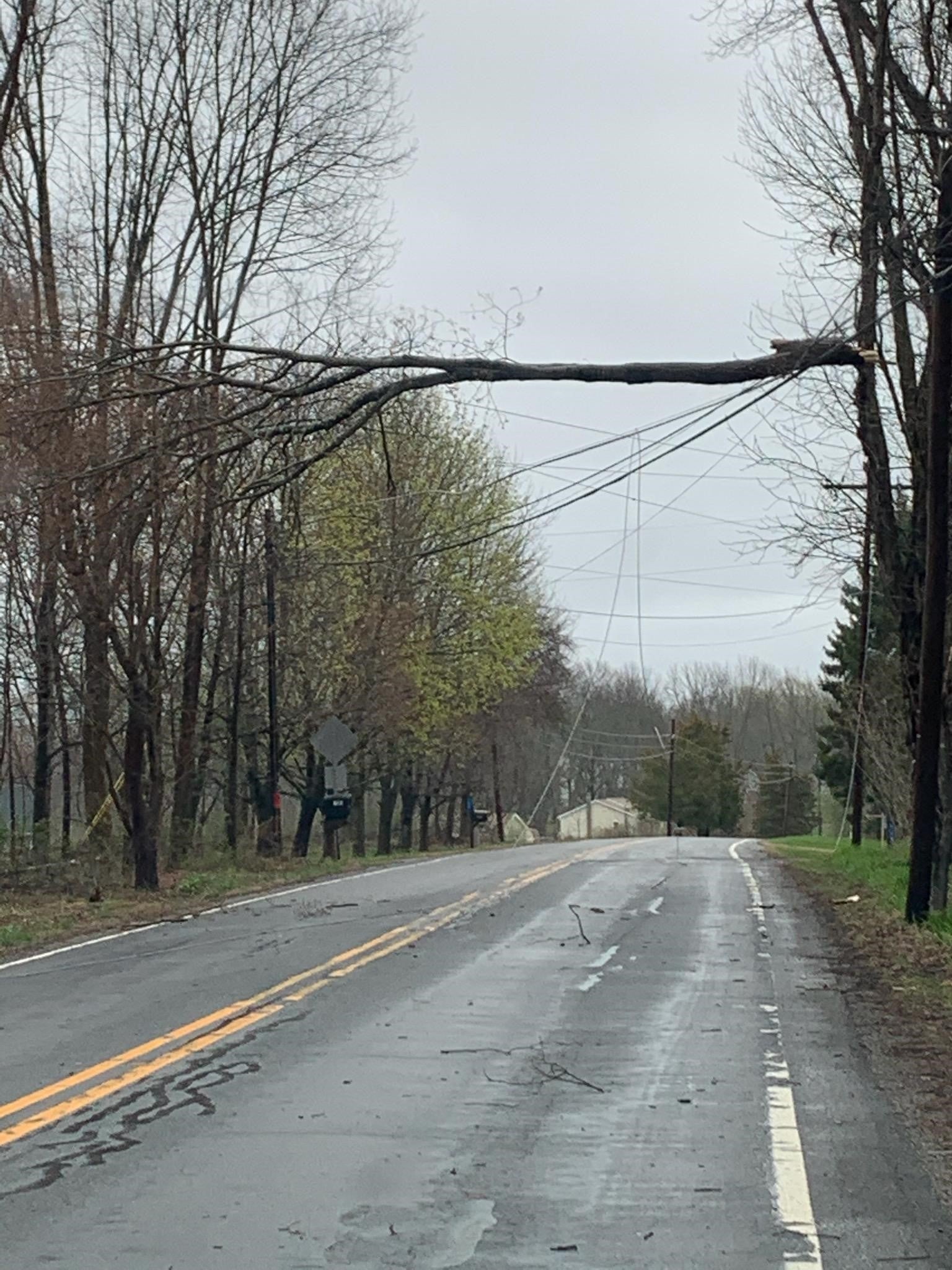 Monday, March 23, 2020 - Social Distancing Infographic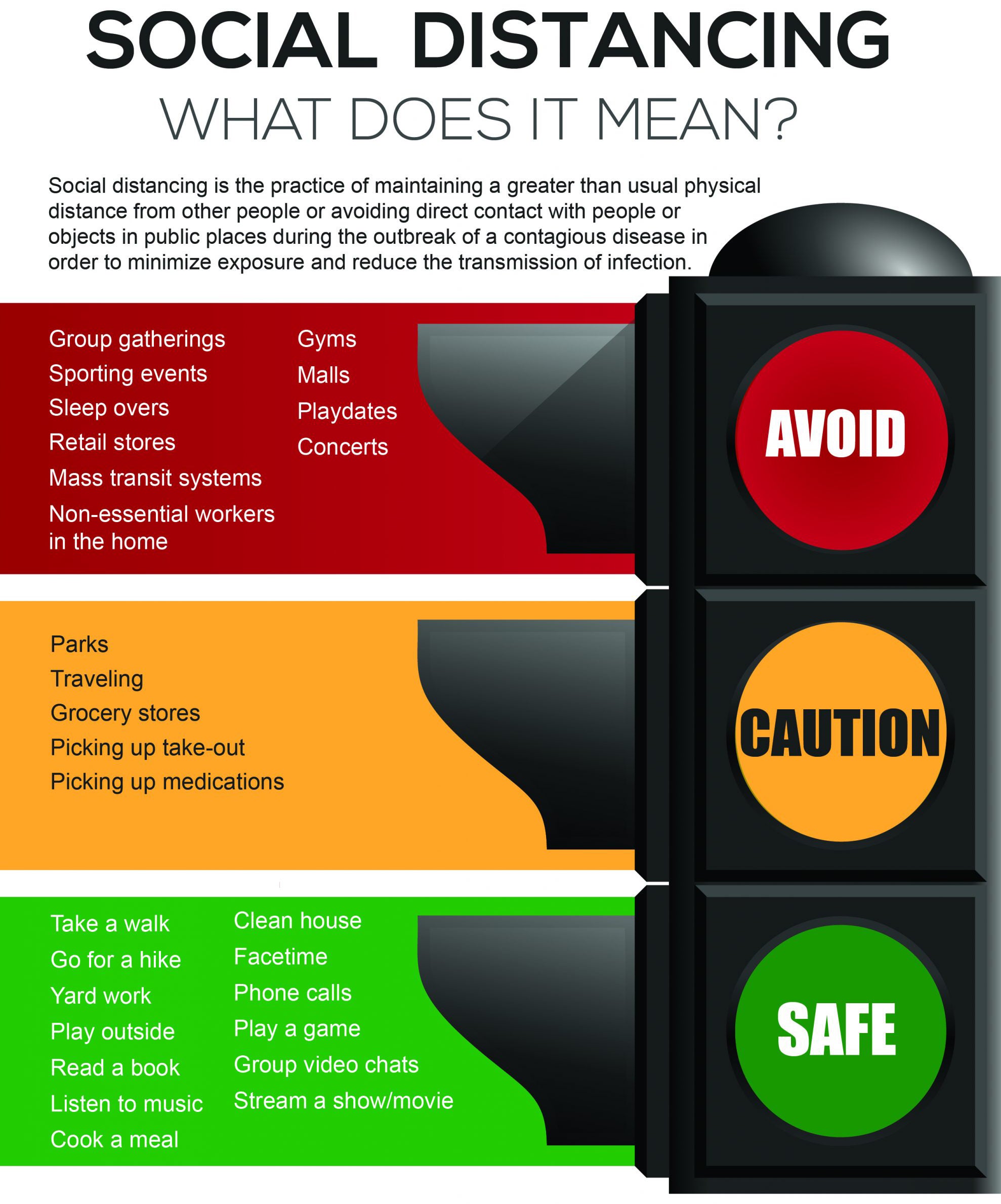 Thursday, March 19, 2020 - Employees Working From Home
As we announced last Friday, SREC has closed the office to the public on March 16th as a preemptive measure to curb the spread of the virus. We feel it has now become necessary to close the physical office to our employees as well in order to try and prevent a single possible infection causing too many employees to be quarantined, or worse, become sick. There has been no positive test - this is purely a preventative measure to keep our employees safe and working, practicing recommended social distancing methods.
All employees are moving to our remote working plan. Your power will not be affected, work will continue in alternative locations as needed. Linemen will be available for outages, bills will still be processed and sent to members, and applications for membership will continue to be processed. If you have questions, you will still be able to speak with employees via phone or email and we will continue to update you of developments online at on the SREC Now page. We will be notifying our members by email alerts, Facebook, and Twitter of any further news or updates.
Please continue to call if you experience outages or have questions. We have planned for such scenarios and will continue to monitor the evolving trends diligently.
We are working with our members during this stressful time. If you have issues with paying your bill, please call our office or email billing@sussexrec.com and someone from our billing department will speak to you regarding an arrangement if necessary.
Thank you.
Friday, March 13, 2020 - Office Closed to the Public
As you are now aware, there are cases of the coronavirus (COVID-19) in New Jersey which has resulted in the Governor declaring a State of Emergency due to the virus spread. Sussex Rural Electric Cooperative, as a local employer and community-focused entity, is monitoring this situation very carefully and is taking proactive and preventative measures.
We take the responsibility to keep the power on for our members and the businesses and facilities in our service territory very seriously. Our employees must be able to perform their duties for that to happen. In a proactive response to local conditions in our community and the surrounding areas, Sussex Rural Electric Cooperative has decided to close the business office to the public. Hopefully, this will serve as a means to help curb the spread of the coronavirus and as a measure to protect our employees so that they can continue to work to maintain our critical infrastructure. The Cooperative itself is remaining open and will be fully staffed during our normal business hours.
Our office will be closed to the public indefinitely. We will continue to stay vigilant and monitor local and state health departments, OEM, and other news sources. We will continue to update on the situation via our email and social media platforms as conditions warrant.
As notify our members of any updates via our email alerts, Facebook, and Twitter, all information will be available online as well at this webpage. You can pay your bill online through our website, through the mail, or you may still drop your payment off to our office in the night deposit box located on the exterior of our facility. Our office staff is still available to assist you over the phone and by email at this time, and our call center is staffed 24/7.