New Jersey will be participating in 2023's Youth Tour! This trip will take place from June 18th - June 23rd!
You know how some people describe their vacations as "the trip of a lifetime?" Here at Sussex Rural Electric Cooperative, we don't take that phrase lightly. The trip of a lifetime must be truly unique - something eye opening and expansive. It must be something beyond a normal vacation; not just a break from the normal but an experience that will leave an impact on you for the rest of your life. Youth Tour is that trip.
Youth Tour is the opportunity to see history come alive. It's the chance to see and experience our nation's capital. Youth Tour is a blend of education, professional development, and fun. It's the opportunity to forge new friendships with students from your school and from schools across the United States. It's the opportunity to learn about our nation and the role you can play in it. And it's the chance to be a part of a special experience that you will never forget. Youth Tour truly is the trip of a lifetime and if you're a high school junior whose home is powered by Sussex Rural Electric Cooperative, you have the opportunity to take part in this unique experience - so don't miss your chance to apply.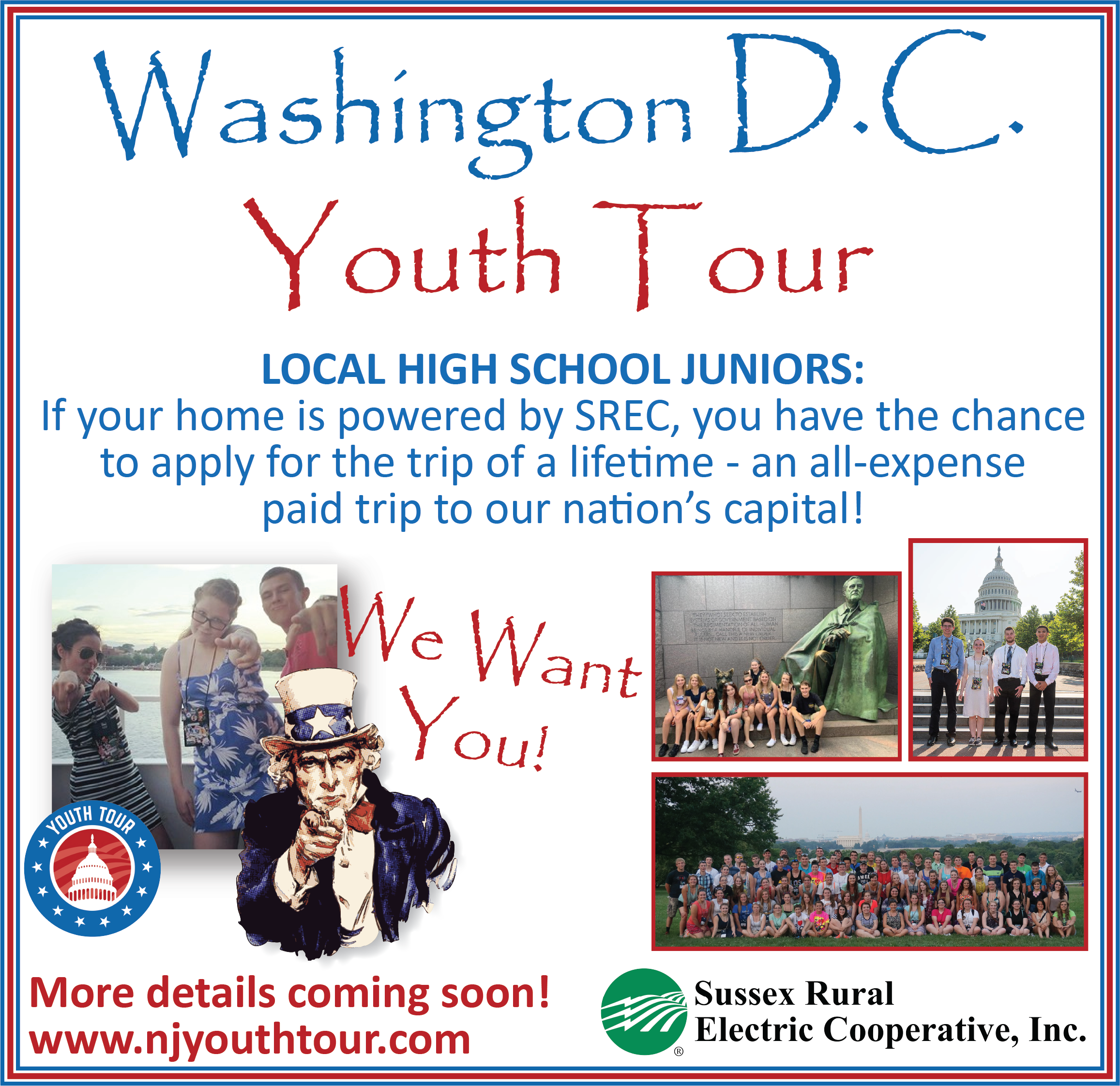 Youth Tour is an all-expense paid, week-long trip to Washington, D.C. available to local high school juniors who live in homes that receive electric power from Sussex Rural Electric Cooperative.
More than 1,500 students from all across America take part in this unforgettable experience each year, and so can you! You'll travel to Washington, D.C. alongside your fellow New Jersey students as well as those selected by Pennsylvania's Cooperatives.
Alongside these other students, you'll have the opportunity to explore the capital's museums, memorials, and monuments. You'll have the unique chance to not only meet your state's Representatives and Senators, but sit down with them for a group discussion on Capitol Hill.
You will participate in Youth Day, where you will meet student leaders from nearly every state and hear dynamic industry leaders speak about their careers. You'll become part of a group that has more than 50,000 alumni in every walk of life, including U.S. Senators and CEOs.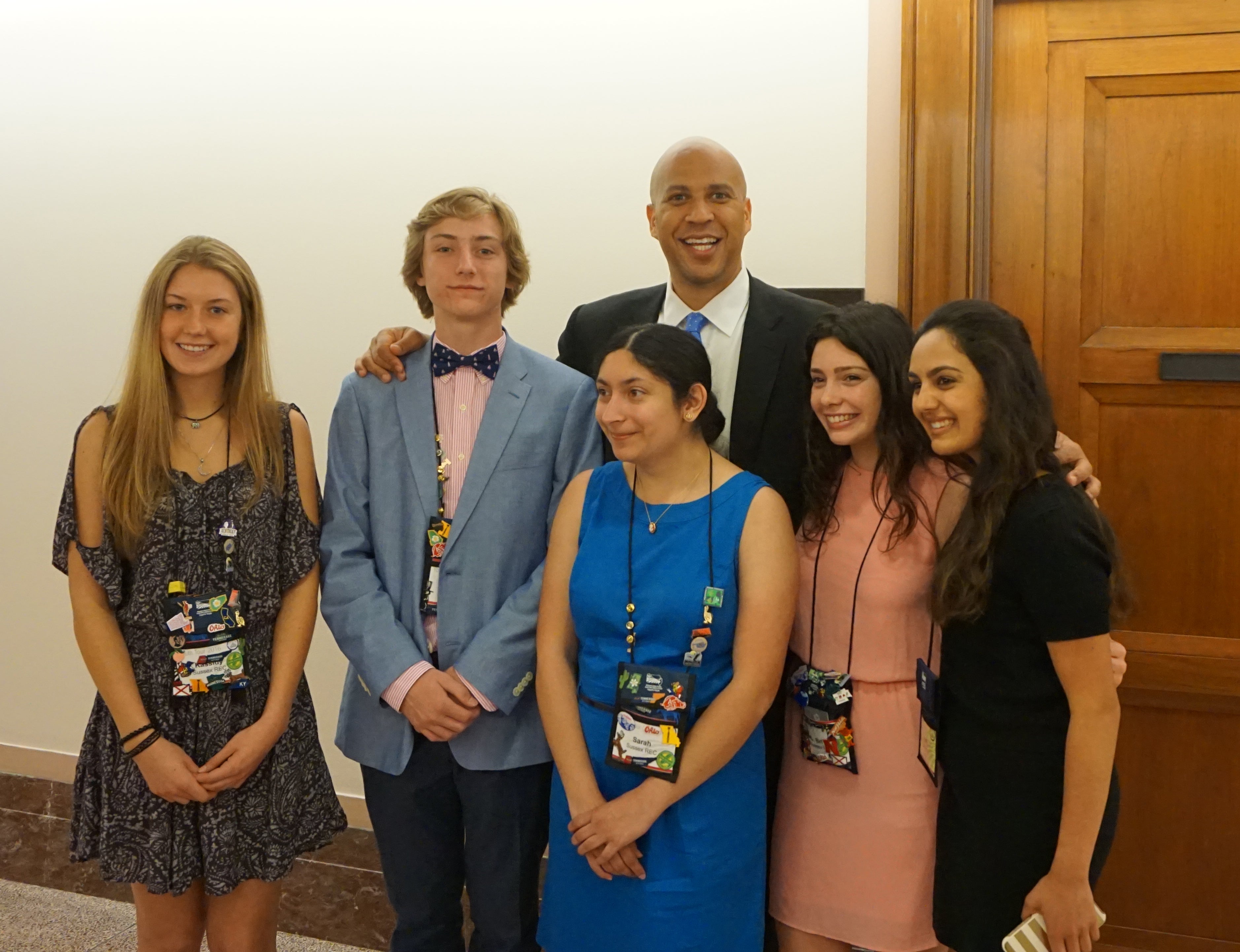 2023's Youth Tour will by necessity be different from past Youth Tours, due to the state of the pandemic. It will be split into two separate sessions, meaning that half of the students attending will travel to Washington, D.C. for one week and then the other half will go a different week. New Jersey and Pennsylvania's students will take the trip from Sunday, June 18th to Friday, June 23rd. This change will reduce the number of students from other states you might meet on this trip, but it does not change the profound experience that Youth Tour offers.
Sussex Rural Electric Cooperative has sponsored juniors from area high schools to embark on this journey since 1986. As an organization dedicated to strengthening our community, we are proud to have shared the opportunity for a unique, life-changing experience to our local youth for so long. New Jersey students' trips are completely paid for by Sussex Rural Electric Cooperative.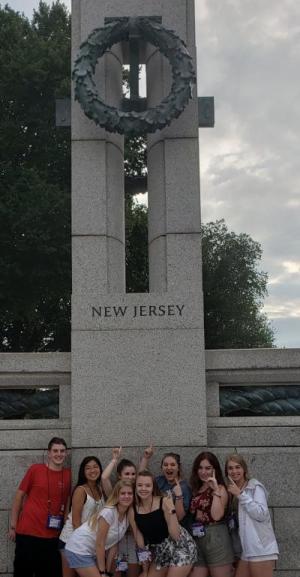 To be eligible to participate in Youth Tour, a student must:
Be a current high school junior
Reside in a home powered by Sussex Rural Electric Cooperative
Attend school at one of the following eligible high schools, or be home schooled:

High Point Regional High School
Sussex County Technical School
Wallkill Valley Regional High School
Vernon Township High School
Pope John XXIII High School
Veritas Christian Academy
Applications are due by February 17, 2023
Along with your application, students must submit an essay, based on the following prompt.
Many students are told from a young age that the only way to lead a successful life is to go to college. To many, "going to college" is seen as more of a rite of passage than a means of finding a career. It seems that it is now looked down upon if someone is not going to college.

It is important to remember that not every CEO went to college and no mortarboard or degree guarantees a big bank account. According to a recent study, the general average salary for college graduates is about $50,000 per year. That degree also comes with an average student loan debt of $37,693. However, there are at least 30 million jobs in the US that pay more than $55,000 per year and don't require a bachelor's degree. A multitude of high-paying skilled trade jobs are available in plumbing, electrical, healthcare, IT, and other fields not only pay extremely well, but are also in high demand. For example, electric linemen are needed across the nation as more than 50% of current linemen are approaching or are at the age of retirement.

How do we change the narrative that trade school is not as legitimate as a traditional four-year college? Not only does the negative perception of trade school hurt the futures of students, it ultimately hurts the nation's economy. For students who are "on the fence" about college, how do we get kids to look at the trades as an option?

Please write a one (1) page essay on the following topic:

As a student, what do you think school and students can do to change the narrative about college and trade school? How can the culture be changed to show that college and trade school are both equally valid choices for students to pursue after graduation?
Please submit your 500-word-minimum essay answering the question above, along with your completed application (which will be available soon), to craffay@sussexrec.com by February 17, 2023. Following this, the next step in the selection process will involve interviews with student applicants. Essays and interviews are a major part of the Youth Tour selection process and help us determine our selection of 2023's Youth Leadership Council (YLC) student representative. You can find more info on this below.
Interviews will be scheduled following the application deadline. To be eligible to participate in Youth Tour, students MUST be able to schedule an interview with us between the hours of 8 am and 4:30 pm, Monday - Friday. Please be advised that your picture will also be taken while you are here for your interview.
As outlined above, we will be using essays and interviews in the Youth Tour selection process. These will also be used to aid in determining the Youth Leadership Council (YLC) student representative for 2023. The YLC is a joint effort of local electric co-ops and the National Rural Electric Cooperative Association (NRECA) that was created to provide an extension of youth activities available to states participating in the Youth Tour program. Each state is entitled to have one representative on the Youth Leadership Council. The representatives are selected by statewide Youth Tour directors through a variety of methods. The new Youth Leadership Council members are announced each year during the Youth Day program in Washington, D.C.
The YLC is designed to develop the participants' leadership and presentation skills and provide a broader understanding of electric cooperatives. All YLC members get to attend the NRECA Youth Leadership Conference in Washington, D.C. and the NRECA Annual Meeting. The 2023 NRECA Annual Meeting will be held in New Orleans. In addition, YLC members are selected from NRECA Regional Meeting host states to speak before the membership about their Youth Tour experiences.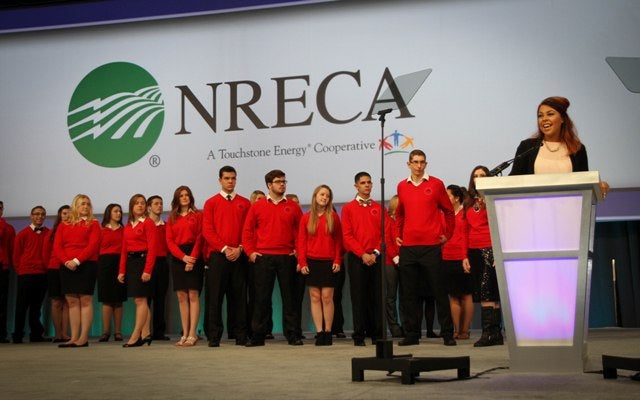 The NRECA Youth Leadership Conference is held each summer following Youth Tour. The conference provides hands-on activities that promote individual leadership development. During the conference, participants select a spokesperson to address the membership of the NRECA Annual Meeting and the Youth Tour delegates the following sum