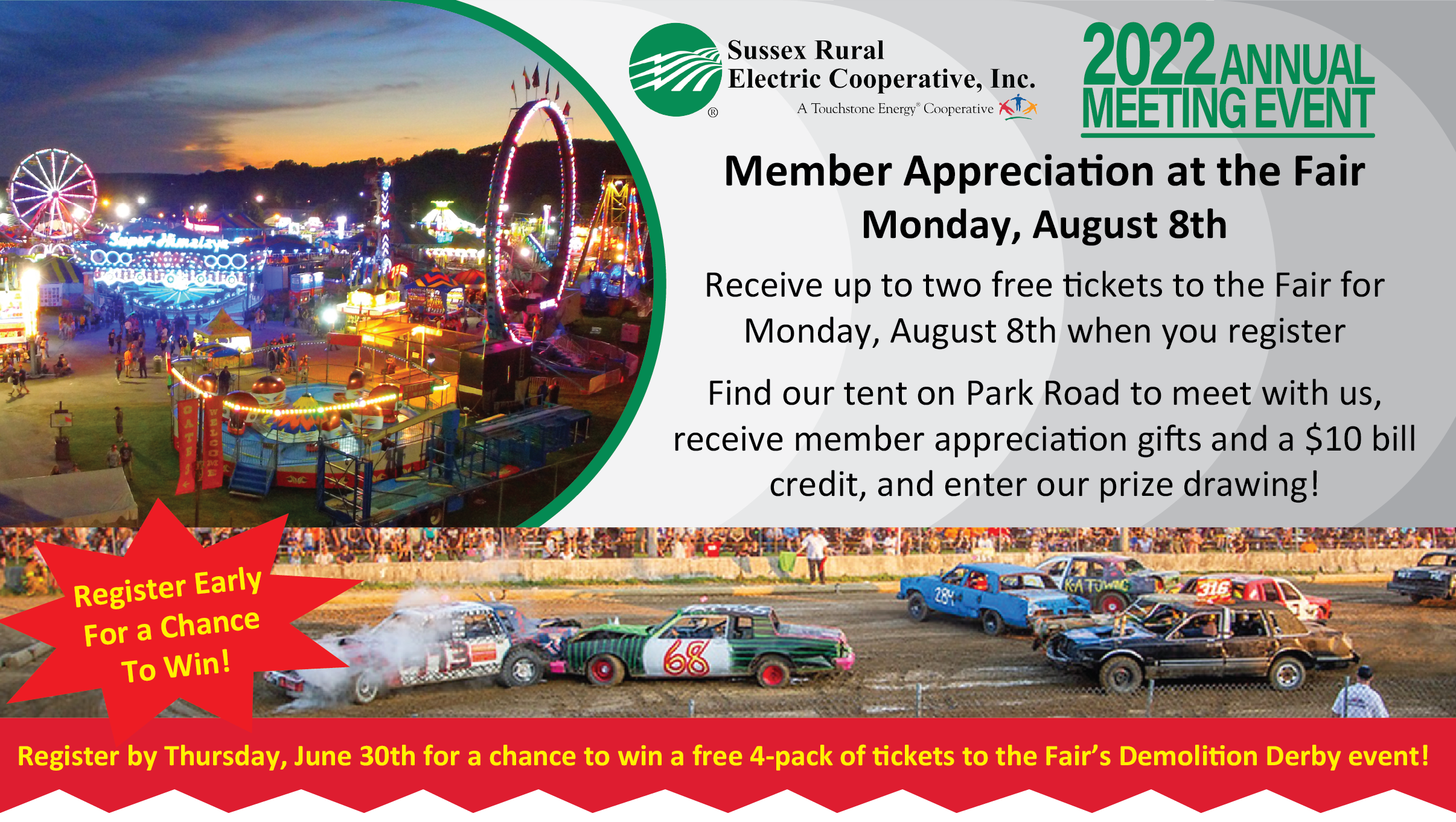 In Sussex Rural Electric Cooperative's 85 years of existence, it has been tradition for all members to have the opportunity to attend an Annual Meeting of Members in June. This event provides members with an opportunity to learn about the Co-op's projects of the past year, receive financial information of the Co-op, and interface directly with SREC's staff.
This year, Sussex Rural Electric Cooperative is combining what worked from last year's Online Meeting with new, member-focused ideas to create an exciting new Annual Meeting Event for 2022. The contents of our pre-recorded Online Meeting were added to this page on Monday, June 6th. Check out the "2022 Online Meeting" tab below to find an introductory video, our chairman's address, a financial report, the results of our 2022 board elections, and a six-part Q&A with our President & CEO Chris Reese.
Below, you will find the registration form for the next part of our Annual Meeting Event: an in-person Member Appreciation Event that will be held at the NJ State Fair on Monday, August 8th. You can read more about this event in our announcement from April 2022's issue of Currents. Registration will be open until Friday, July 8th, 2022. If you register before the end of June, you will be entered into a drawing for a family four-pack of tickets to the Fair's Demolition Derby, as well as four additional free tickets to the Fair. Once the tickets are available, members will be notified that they can be picked up at our office at 64 County Route 639, Sussex, NJ 07461 or at the Fair's will-call on the day of the event.
On August 8th, SREC will have a tent at the NJ State Fair that will be staffed all day by our employees, CEO, and board members. Our tent will be located on Park Road, between the two main entrances tot he Fairgrounds. We hope many of you stop by to speak with us throughout the day. Members who have registered through the form will have a $10 bill credit and member appreciation gift reserved for them (members must be physically present at the Fair to claim these items). We will also be holding a prize drawing at our tent on August 8th.
If you know a member who has no or limited internet access, please let them know they can also register for this event by calling our office at 973-875-5101. We aim to be accommodating of all members to encourage them to participate in our in-person event.
2022 Annual Meeting Introduction
2022 Q&A Pt. 1 - Electric Vehicles
2022 Q&A Pt. 2 - Renewable Energy
2022 Q&A Pt. 3 - Cost of Power
2022 Q&A Pt. 4 - Battery Storage
2022 Q&A Pt. 5 - Solar Power
2022 Q&A Pt. 6 - Tree Trimming

Board of Directors Election Results Presented by Tom Ryan

Message from Congressman Josh Gottheimer

Message from Senator Steve Oroho

Financial Address from Board Secretary/Treasurer Ray Cordts

Address from Chairman of the Board Jack Haggerty

Q&A with CEO Chris Reese
To skip to specific questions, go to each timecode in the video:
0:20 - "What is the Cooperative doing to increase the use of renewable energy?"
3:31 - "It seems that last year we had more outages than usual. Is our association with JCP&L the reason?"
10:38 - "Is JCP&L using our lines and, if so, why?"
13:36 - "Do you plan to implement time-of-use billing for electric vehicle charging?"