Supporting Our Local Schools for Over 80 Years
In the modern world, it's essential for students to have a solid grasp on both the importance and utility of, as well as the science behind, electricity. This is both to provide a strong base of knowledge that could come in handy across their lives and to keep them safe when dealing with potential electric hazards.
To live up to our cooperative principles of concern for community and commitment to education, we here at Sussex Rural Electric are committed to helping local classrooms provide this kind of insight to our community's next generation of leaders. Detailed below are our School and Scout Support programs, which offer educational presentations for preschool or fourth grade classes, as well as field trips to Sussex Rural Electric Cooperative so elementary school students and scout troops can see the business of an electric utility up close.
In addition to these programs, our support for local education extends beyond presentations and field trips - our programs have something for everyone. We also offer scholarships for students moving on to college or trade school, a Bright Ideas Classroom Grant offered to help local teachers fund educational projects, and Youth Tour, a program where local high school juniors can apply for an all-expense-paid, week-long trip to Washington, D.C. Whether for pre-k, elementary school, or high school students, those seeking college degrees or certifications, local teachers, or scouts and troop leaders, the Co-op can always be a trusted resource.
If you are a teacher, scout leader, or parent interested in taking part in one of the free programs below, please contact our office at 973-875-5101.

Sussex Rural Electric Cooperative Educational Presentations
As part of its support for our local students, Sussex Rural Electric Cooperative offers an electrical safety program that gives students the opportunity to learn about the electricity through a presentation given by utility workers. Local fourth-grade teachers and educators can schedule an opportunity for Sussex Rural Electric Cooperative employees to visit their class(es) and relay to them information on electricity and energy sources, electric utilities, and safety around electricity.
This presentation is geared towards students at a fourth-grade level. Through a detailed and engaging PowerPoint presentation, our program delivers a wide variety of information about electricity. Students will have the opportunity to learn about sources of power generation, how electricity is distributed, the job of a lineman, and a variety of information on electric safety at home. We have found that students of all ages have a lot of curiosity about electricity, so students are encouraged to ask questions throughout the presentation as long as there is ample time remaining.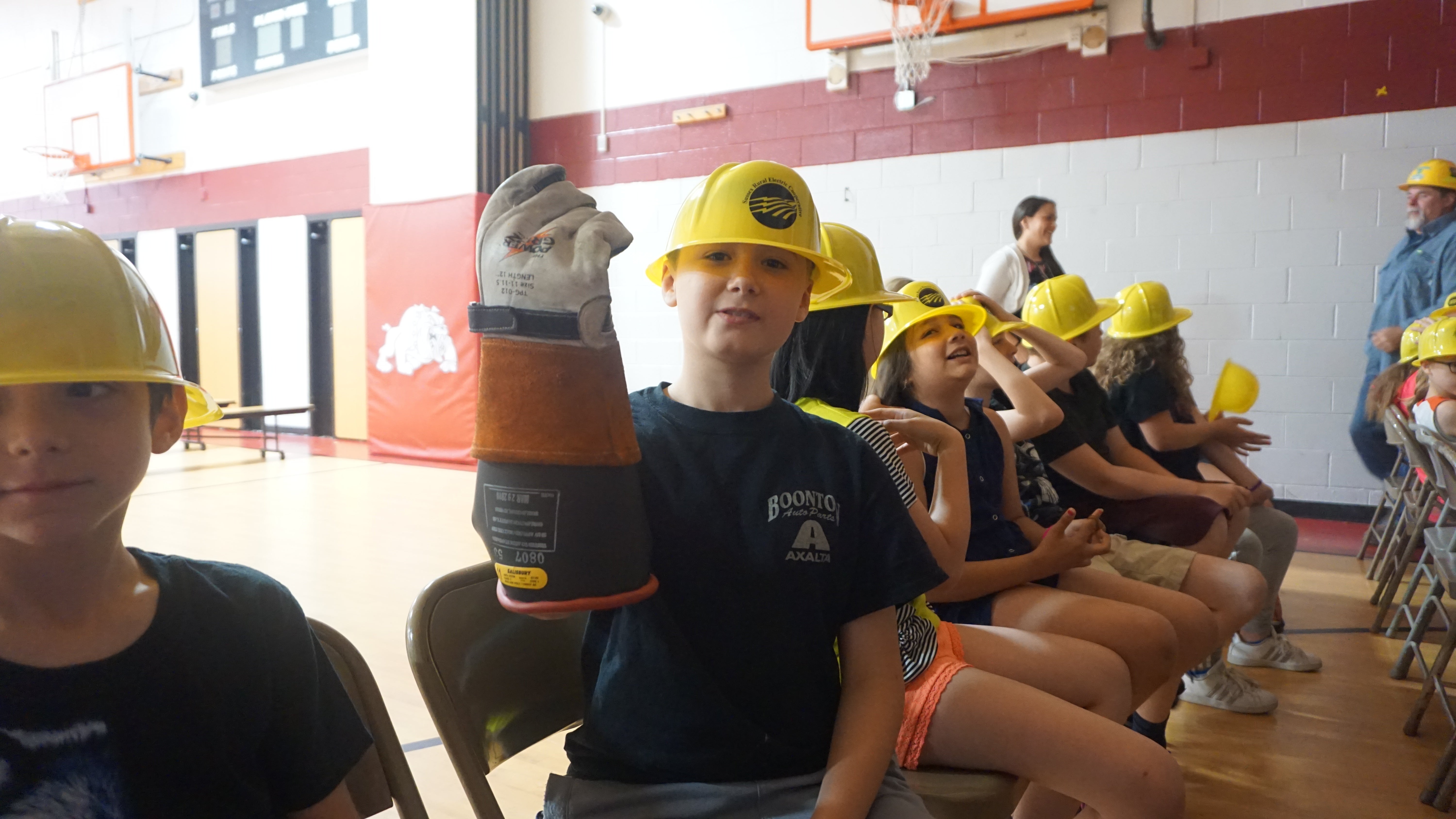 Given permission from parents, an SREC employee will take pictures of the presentation and the class to be shared with the teachers. Some pictures may be used for Sussex Rural Electric Cooperative's social media accounts. We will make accommodations to avoid taking pictures of students who do not have parental permission to be photographed.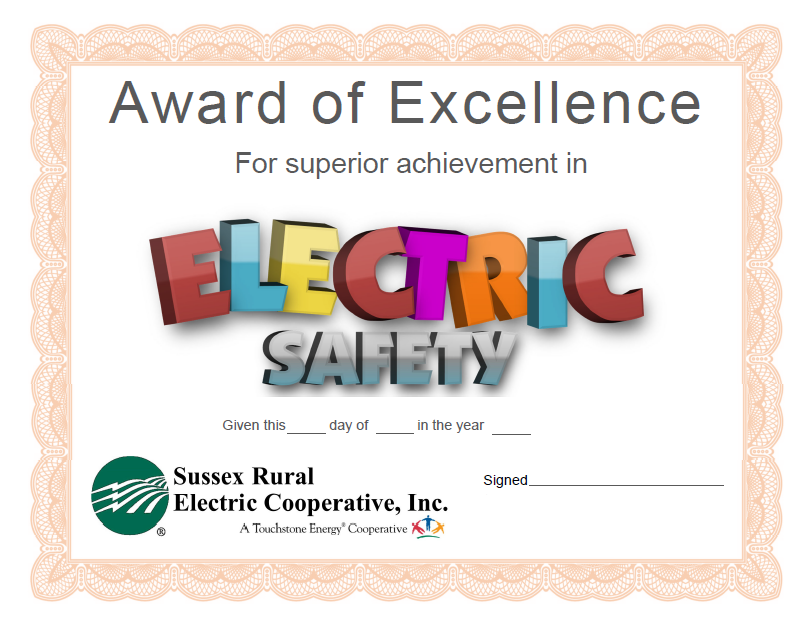 If available, an SREC lineman will accompany the presenters. Our lineman will answer questions from the class about linework and more in-depth inquiries about electricity. He'll also bring along a bag of some of his tools and gear, some of which can be passed around for the class to see up-close. With enough space to park, he'll come to the school in a bucket truck, which the class can come outside to see and to pose with for a group picture.
When the presentation concludes, teachers will be given "care packages" for every student. Included are small items like stickers, a plastic "hard hat," a certificate of achievement in electric safety, and "Pluggy's Power Patrol," an SREC-produced booklet filled with fun activities that cover some topics from the presentation and more. By taking these items home, we hope that each student will have a positive memory of the experience and will bring what they learned about energy efficiency and electric safety home with them.
As a member-owned utility, school presentations are provided by Sussex Rural Electric Cooperative free of charge. If you're an elementary school educator interested in having SREC employees come to your school for this presentation, you can contact us by phone at 973-875-5101 or by email at craffay@sussexrec.com.
SREC Beginner's Electric Safety Program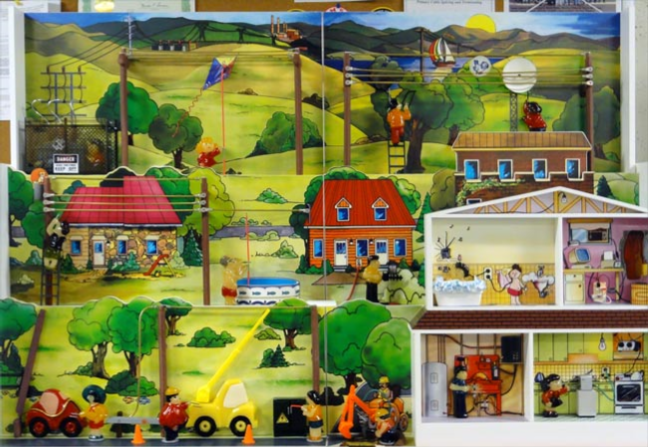 Electric Safety is very important regardless of age. Our young children are often the ones most vulnerable to electrocution from household items that others know to use safely. This is why Sussex Rural Electric Cooperative sponsors a program to teach our community's children about the dangers of electricity early in childhood.
Local preschool teachers can reach out to Sussex Rural Electric Cooperative to take part in this program. SREC employees will come to your school to give a beginner's lesson on electric safety.
This presentation breaks down the ideas behind electric safety in ways that young children can grasp. To help get the point across, we typically utilize "Hazard Hamlet," an interactive, educational diorama. This display makes use of lights and sounds to portray to students the potential dangers of electricity in everyday situations.
This is an eye-opening experience complete with sparks, sounds, and small power arcs. This presentation is completely safe and risk-free, but successfully communicates to young students the potential danger of substations, power lines, and wet or mishandled appliances. Hazard Hamlet is the perfect way to keep the attention of young children and visualize guidelines for electric safety in a relatable way.
Following the presentation, students will be given plastic hard hats to remind them to be safe around electricity while at home. We sincerely hope that this program energizes the youngest members of our community to recognize the need for electric safety and avoid getting "ZAPPED!"
If you teach a preschool class or are involved in an equivalent program and would like to arrange a beginner's electric safety lesson at your school, feel free to call us at 973-875-5101 and ask for Claudia, or contact us by email at craffay@sussexrec.com. All school visits provided by Sussex Rural Electric Cooperative are free of charge.
Field Trips to Sussex Rural Electric Cooperative
At Sussex Rural Electric Cooperative, we strongly believe in fostering opportunities for students to learn outside of the classroom. From the months of March to June, Sussex Rural Electric Cooperative invites local fourth grade classes, as well as scout troops and home-schooled student groups, to our facilities as a destination for field trips.
The group will get to see the business behind an electric cooperative firsthand, guided through our office and warehouse area by Cooperative employees. The group will be gathered in our large conference room to be shown our educational presentation used in our elementary school visits. This conference room is capable of seating up to sixty individuals. Smaller groups can be accommodated in our smaller, upstairs conference room.
As with our educational trips to local schools, attending students or scouts will be taught about power generation, utility work, and electric safety. Students are encouraged to ask questions throughout the presentation, which may be answered by the presenter or one of our linemen who participates in the program. Our lineman will pass around items such as his gloves and rubber sleeves to demonstrate the kind of protection a human body needs when working with electricity. 
Given parental permission, pictures will be taken throughout the event to be shared with teachers afterwards. Select pictures may be used on Sussex Rural Electric Cooperative's social media accounts. If a student or scout lacks parental permission to be photographed, please let us know so we can avoid any issues.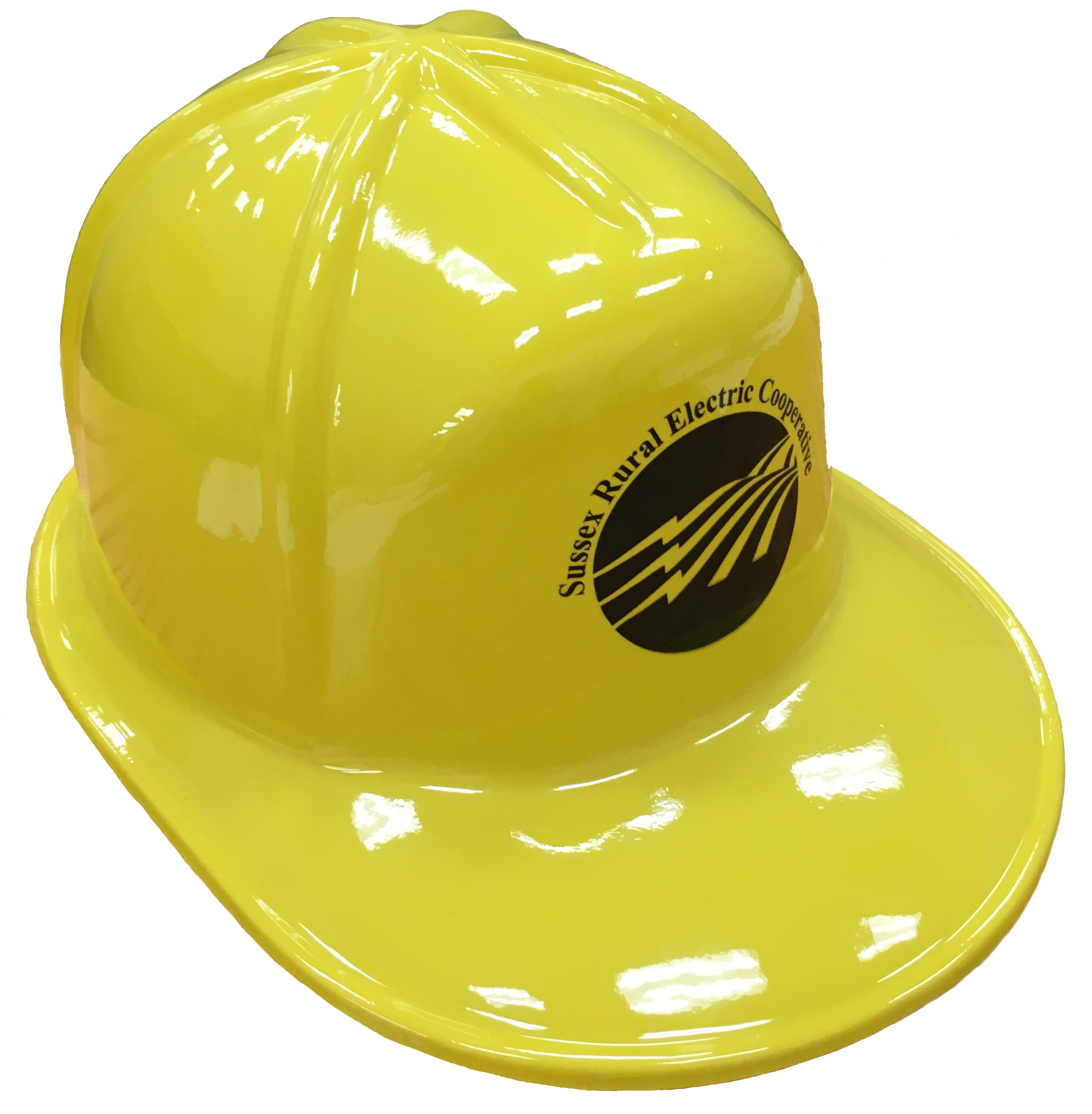 When the presentation is over, teachers or scout leaders will receive "care packages" with materials to give out to each student or scout when the group leaves the Cooperative. Items include stickers, a certificate of excellence in electric safety, our "Pluggy's Power Patrol" activity book, and, of course, plastic hard hats.
If weather permits, one of our linemen will guide the group outside to see a bucket truck up close, with an option for a group picture, either in front of the bucket truck or taken from above!
As a member-owned utility, field trips to Sussex Rural Electric Cooperative's office are free of charge. We just simply ask that students and scouts are reminded to be courteous to those around them in a working environment like our office. Interested teachers or scout leaders can set up a field trip to the Cooperative by calling us at 973-875-5101 and asking for Claudia, or by contacting us by email at craffay@sussexrec.com.