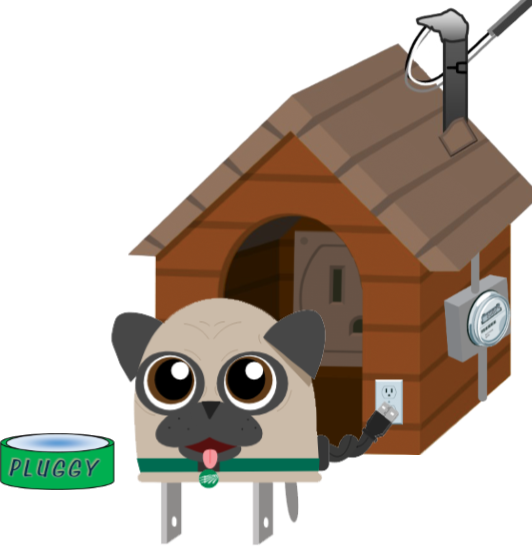 Sussex Rural Electric Cooperative's safety mascot, Pluggy the PugTM, is dedicated to teaching kids about electric safety! Do you have what it takes to join Pluggy's Power Patrol?
Pluggy the Pug is an unusual pug, who is also a plug, with an electrifying personality! He was adopted by Lineman Larry and was taught all about how electricity works. Electricity is super helpful, but it can also be very dangerous. Pluggy decided to share all the things he's learned with others. This is why he started Pluggy's Power Patrol.
We host visits to Sussex Rural Electric Cooperative, where students can join the Power Patrol by learning about electricity. Even if you aren't part of a trip to the Cooperative, you can join the Power Patrol by making sure your homes stay both energy efficient and safe from any hazards!
Parents can initiate their children into Pluggy's Power Patrol by printing out some of the activities below. These activities include word puzzles, mazes, and other fun games that kids can use to test their knowledge on electric safety. For children of younger ages (preschool - kindergarten), we have two picture books starring Pluggy the Pug to teach a beginner's lesson on electric safety, and introduce them to electric cooperatives and Youth Tour!
Pluggy's Power Patrol Activities