When it comes time to pay your electric bill, you can do so in several ways: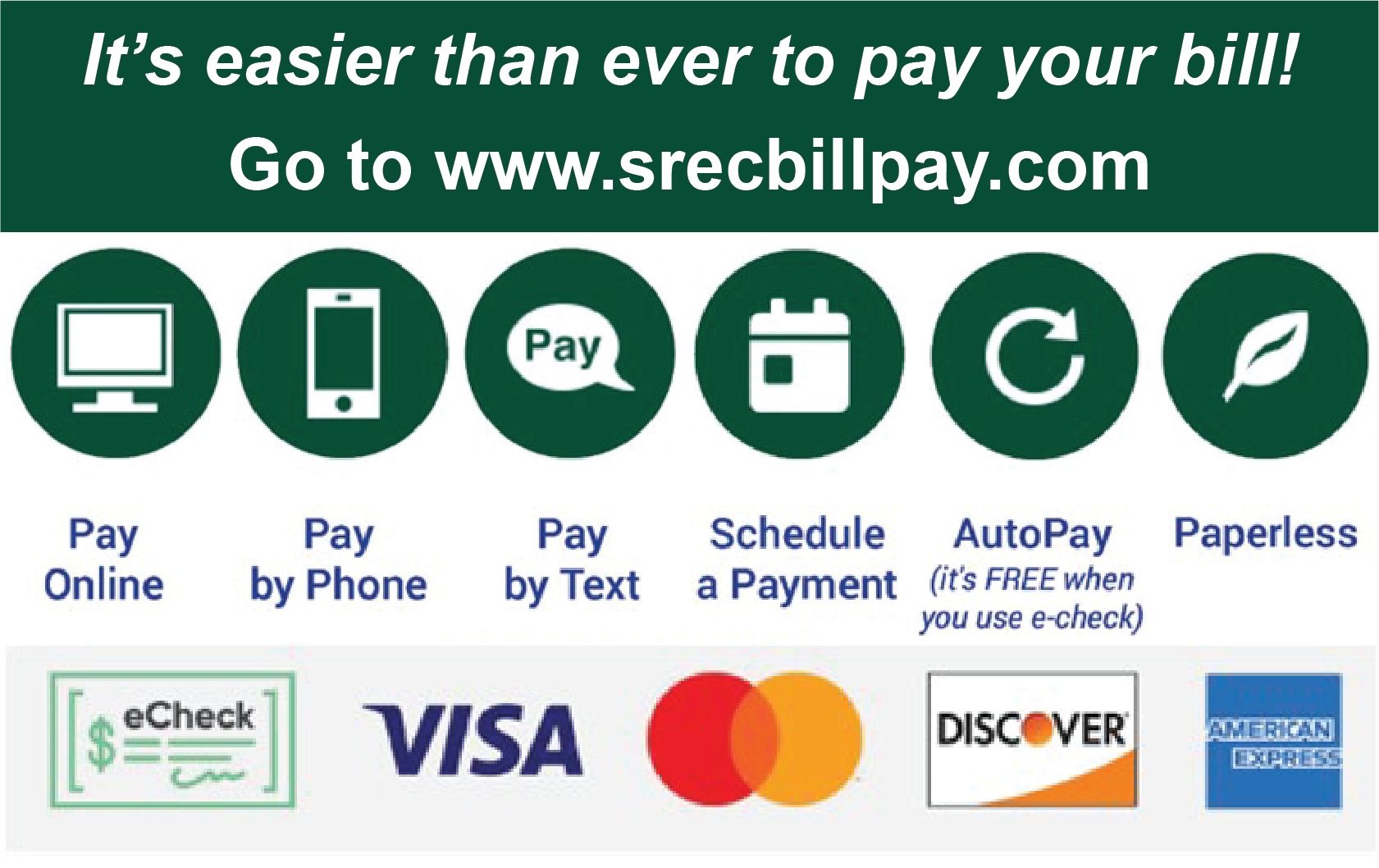 Online payments can be submitted at www.srecbillpay.com. Online payment options include bank drafts, using your bank account number and routing number, and credit card payments. NOTE: There is a 3.5% ($1.95 minimum) credit card convenience fee charged by the credit card merchant that will be added to any online credit payments. These can be used to make a One Time Payment.
You can also use our Quick Pay option to pay your bill online without having to log in to your account. Please note that all fees attached to online bill payment still apply.
From your account at www.srecbillpay.com, you can enroll in Paperless Billing to receive email notifications for your electric bill only. By selecting this option, you will no longer receive your bill by mail. Paperless billing is a convenient and green alternative that eliminates waste and saves money spent on postage for both the member and the Co-op. The option for Paperless Billing can be found in our Bill Pay site's options, under the "Billing Information" tab.
Also on www.srecbillpay.com, you can enroll in Automatic Recurring Payments to have your banking information securely saved to automatically pay your bill when it becomes due. Each month on your bill's due date, the exact amount needed to pay your bill will be withdrawn directly from your account. To set up recurring payments, log in to our Bill Pay site, then select the "Bank Draft" option underneath "Pay Your Bill." Your account must have a zero balance in order to set up recurring payments.
In-Person Payment
If you would like to drop off payment in person, you can do so at our office's front desk during normal operating hours (8 am - 4:30 pm, Monday-Friday). We accept payments by check, cash, or money orders. Our office is located at 64 County Route 639, Sussex, NJ 07461 (NOTE: At the moment, our office is closed to the public, but we can buzz visitors in on an individual basis once you ring our doorbell).
Our office is also equipped with an outdoor dropbox to allow for secure payments after hours. Deposits in the dropbox are checked every workday.
Phone Payment
To pay by phone, call our office at 973-875-5101. We accept payments made with Visa, MasterCard, or Discover by phone. NOTE: There is a 3.5% ($1.95 minimum) credit card convenience fee charged by the credit card merchant that will be added to any credit payments. Members can also pay by check over the phone with no convenience fees attached.
Help Paying Your Bill
If you are in a financial situation where you are unsure of your ability to pay your bill, consult our Billing Assistance page. Here, you can find various resources provided by Sussex Rural Electric Cooperative as well as outside assistance programs that our members are eligible for. You can contact our billing staff with questions about SREC's programs at billing@sussexrec.com or by calling our office at 973-875-5101.
You can find in-depth information on Sussex Rural Electric Cooperative's current rates here.
Your Cooperative's primary objective is to provide the highest possible quality of electric service at the lowest possible price.
The following is an overview of our residential service rates and fees.
Residential Service (NY rates designated by NYS)
Available to consumers for year-round and seasonal use, subject to established rules and regulations of the Co-op. Type of Service: Single-phase, 60 cycles, at available secondary voltages.
Monthly Residential Rate for New Jersey members (as of 1/10/2022):
| | |
| --- | --- |
| System Connection Fee (monthly) | $36.25 |
| Energy Charge (per kWh) | $0.1247993 |
| Power Cost Adjustment (per kWh) | -$0.0021945 |
Monthly Residential Rate for New York members* (as of 1/10/2022):
*NY rates are lower because NY does not charge sales tax on electricity
| | |
| --- | --- |
| System Connection Fee (monthly) | $34.00 |
| Energy Charge (per kWh) | $0.1170451 |
| Power Cost Adjustment (per kWh) | -$0.0020582 |
Each charge is explained below
Formerly known as the Facilities Charge, this is a fixed rate used by the Co-op to cover the expenses of maintaining the best possible quality of electric service and investing in improvements to our infrastructure. Below are examples of the expense items covered by the System Connection Fee:
Wire, transformers, utility poles, other equipment, and labor needed to build and maintain the electric distribution system
Keeping pace with increased system investments to improve reliability
Implementing new technologies to provide increased reliability and operational efficiencies such as the outage management system and advanced metering
Liability insurance, interest, taxes, and emergency storm restoration
Outage restoration costs
The actual charge for the kilowatt hours (kWh) of energy used by a household or business during the billing period.
Power Cost Adjustment (PCA)
Due to the shifting wholesale power costs month-to-month, Sussex Rural Electric Cooperative uses a Power Cost Adjustment to settle wholesale energy collections from its members. The PCA is applicable to all metered kilowatt hours of energy billed under the Cooperative's electric service schedule. The PCA is applied by crediting or debiting the member's monthly bill to recover or refund the difference between estimated and wholesale power costs.
Commercial and contract rates are also available. Please contact us for more information.
---
Schedule of Fees
(Fees subject to change)
Reconnect Charge:
During Business Hours $20.00
After Hours $50.00
Trip Charge: $20.00
Returned Check: $20.00
Deposit:
The need for a deposit will be determined using our online service for residential services. The requirement for a deposit is determined by a third party using check information for residential services.
2nd Meter Test in 12 months: Billed the direct cost to replace and test the meter.
New deposit if delinquent: Up to 2 months average bill.
Security light vandalism repair (2nd occurrence): $70.00
Have you ever had a moment when you've looked at your monthly bill and were unsure of the meaning behind one of the terms, abbreviations, numbers, or charts on the page? Below you can find a handy guide to each of the key items found on a Sussex Rural Electric Cooperative bill.
If you have any questions about your bill, do not hesitate to call our Member Services department at 973-875-5101. Our representatives are here for you to answer any questions that you may have.