Exterior, Flood and Decorative Lights
Do you need exterior area lighting for your home, farm, or place of business? As a member of Sussex REC you can take advantage of our exterior light service. For a small fee conveniently added to your monthly bill, your Cooperative will work with you to determine the best location for your new light then will install and maintain the light. Imagine the comfort of having a utility grade area light protecting and enhancing the nighttime appearance of your property.
 
Exterior Lights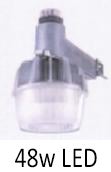 We offer a few styles of lights. The first is for general area illumination applications. This fixture is available with a 48 watt LED lamp. These fixtures produce are quite energy efficient for their lumen output. Control of the fixture is accomplished using a photoelectric cell. These fixtures are mounted on a traditional wooden utility pole.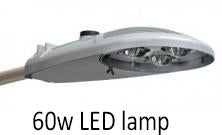 The second is also a pole mounted area light. This lighting fixture is available as a 60 watt LED lamp. These powerful bulbs are excellent at illuminating large spaces like parking lots or large driveways. A photoelectric sensor controls the light so it comes on at dusk and turns off at dawn.
Flood Lighting
We offer a flood lighting option for providing large areas of lighting. Pole mounted with photoelectric control, these fixtures are offered with either a 25E or 40E LED lamp.
Decorative Lighting
We also offer a decorative fixture for areas that have the electric wires buried underground. Our typical style is American Revolution 247 Post Top fixture with a 100 watt High Pressure Sodium lamp (or another lamp type of comparable output of our choosing). This light is pictured to the left. Click here for a specification sheet.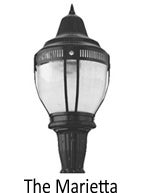 A second style, called the Marietta, may also be available. It is pictured to the right and a specification sheet for this line of fixtures can be obtained here. This is for commercial application only.
Please contact us at 973-875-5101 for a price quote and current fixture availability.