To view the full print/pdf version of this issue of Currents, click here
For previous issues of Currents, visit our Currents Library

The Spotted Lanternfly
  By: Claudia Raffay, Director of Marketing & Member Services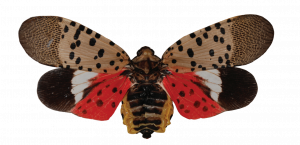 Crates of products arrive at U.S. ports every day. Along with the products, the crates sometimes carry unwanted stowaways. Invasive plant and insect species have become a real issue, affecting our homes, our communities and our environment. We all know of the stink bug and the emerald ash borer that have attacked crops and trees.
An invasive species from Asia, the spotted lanternfly landed in Pennsylvania's Berks County around 2012. Once again, this brightly colored, moth-like insect has been spotted in our area, which is a cause for concern. One recent report was made in the Byram area. The spotted lanternfly threatens grapes, orchards, and hardwood trees.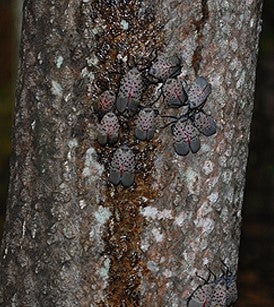 The spotted lanternfly is known as a plant-hopper – they hop around and suck sap from just about anything, including trees, shrubs, and herbs. They lay their eggs on everything — furniture, rocks, toys, cars — which makes them easy to spread as the items can then transport the eggs across the country. Like the emerald ash borer, which accounts for a majority of the dead ash trees in our area, the lanternfly can also cause damage to trees which can fall and cause outages. The lanternfly is easy to kill with pesticides, but those chemicals will also kill all the good bugs.
Pennsylvania has established a spotted lanternfly program in hopes to eradicate or contain the problem. We should be aware of this issue as Pennsylvania's neighbor. We have included images here, including an image of what multiple spotted lanternflies look like while "hidden" on a tree, to help you identify the invasive insects. If you want more information or want to report a sighting go to https://www.aphis.usda.gov/publications/plant_health/alert-spotted-lanternfly.pdf.
---