To view the full print/pdf version of this issue of Currents, click here
For previous issues of Currents, visit our Currents Library
Watch Out for Invasive Pests
  By: Steve Sokolowski, Marketing Associate

We all know that invasive species can pose a threat to an area's animals, plant life, and crops, but did you know that they also threaten power distribution? Species that feed on or lay eggs in plant life can significantly weaken local trees, which can ultimately lead to branches or whole trees coming down on overhead power lines. Trees and vegetation already contribute to about 70% of outages on Sussex Rural Electric Cooperative's system. These new threats stand to make this problem even worse.
Two types of invasive bugs have made northern New Jersey their new home in recent years, putting a strain on the plant life in our area. These bugs are known as the emerald ash borer and the spotted lanternfly. The life cycle and diet of both species pose major problems for the health of our trees which can threaten the flow of power to SREC's members. We ask our members to remain aware of these species, to learn to recognize them and the signs a tree may be affected, and to take action when possible – whether that's by reporting a sighting of these species or squashing one of these bugs before it can do more damage.
The Emerald Ash Borer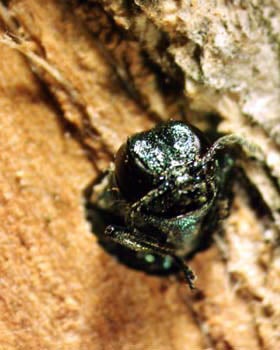 While its original habitat was in several Asian countries, the emerald ash borer is an invasive species of beetle that has been present in North America in 2002.
The emerald ash borer, living up to its name, specifically targets ash trees. Unfortunately, these trees are very common in Sussex County and surrounding areas. The emerald ash borer lays its eggs in the cracks of ash trees. Once the eggs hatch, emerald ash borer larvae burrow into the tree to continue their growth cycle. This process leaves distinctive, curvy patterns in the tree. Once they enter the pupal stage and grow into adult ash borers, they emerge from trees and leave exit holes.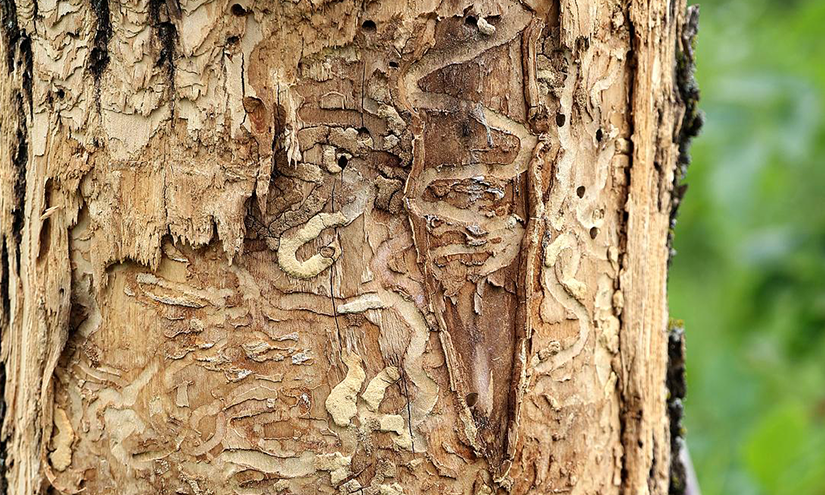 The life cycle of the emerald ash borer is inherently parasitic, leaving these ash trees weakened and dying. You can spot when a tree has been used by emerald ash borers by the markings from the larvae's burrowing and adult ash borers' exit holes, as well as prematurely thinning and yellowing leaves. A tree that has been weakened or killed by emerald ash borers has increased risk of falling and potentially causing a power outage.
It is very important to be able to spot an affected ash tree, not just to report an emerald ash borer sighting but also to prevent unintentionally spreading this invasive pest. Unsuspecting homeowners can accidentally transport emerald ash borer larvae and pupas to new locations when transporting firewood collected from an infested tree. For this reason, we recommend that you avoid traveling with firewood.
The Spotted Lanternfly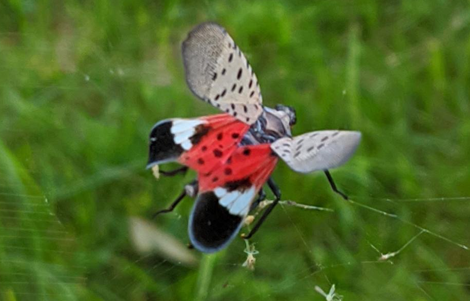 The spotted lanternfly is an invasive insect that originated in China. It was first discovered in the United States in 2014 when it was found in Pennsylvania and has since spread to several other states including New Jersey. These bugs spread so efficiently that they are known "hitchhikers." This is because they are opportunistic when laying eggs, laying them on all sorts of surfaces – which can include vehicles, trailers, and other outdoor equipment.
The spotted lanternfly feeds on over 70 different plant species. It uses its mouthparts to pierce plant life to extract sap. Its mouth can even penetrate a tree's heavy bark to reach its sap. This process weakens trees and other plants leaving a honeydew residue which can attract other insects and promote fungal growth, which further harms the plant. In the case of large trees like those in our area, a tree that has sustained enough damage could die and become more likely to fall over, potentially hitting or taking down power lines and causing an outage.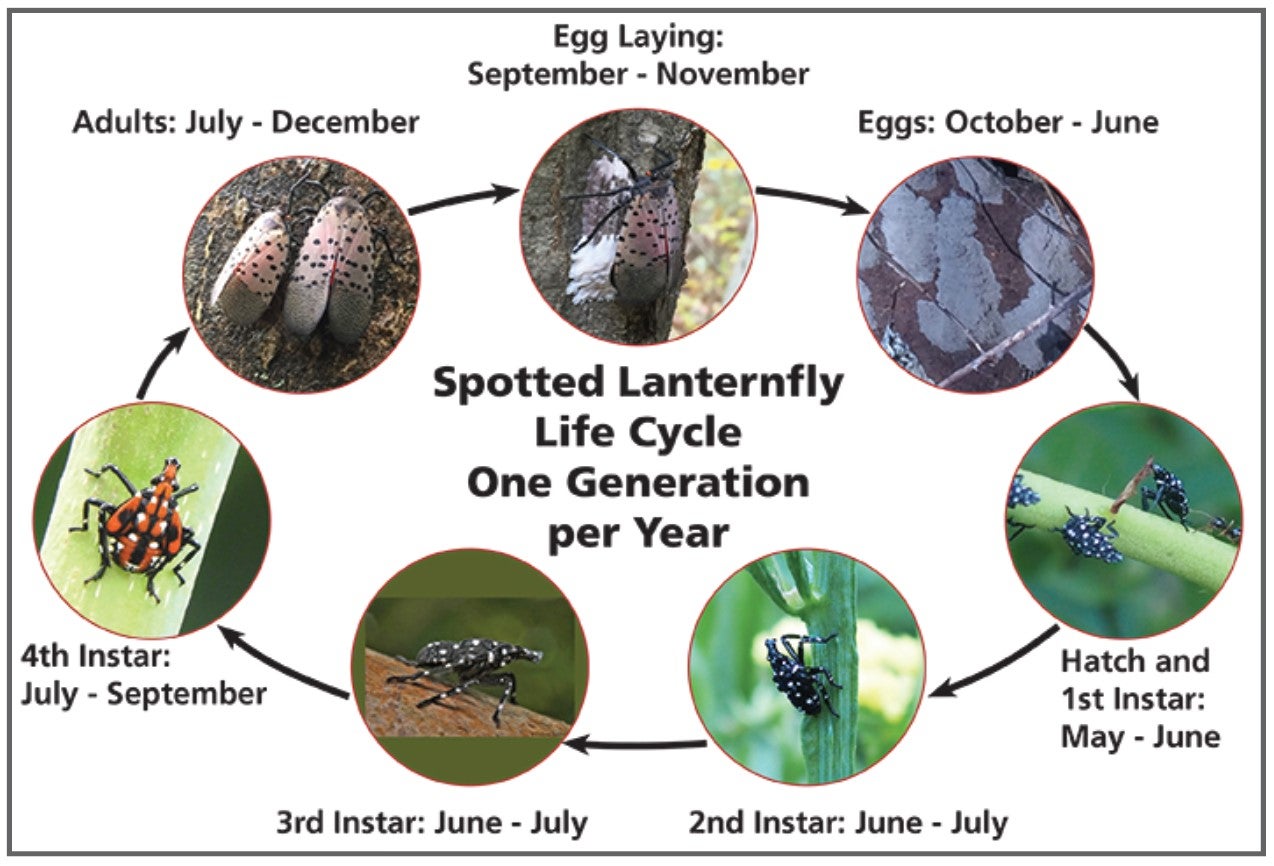 This pest sports a distinct spotted pattern that changes throughout its life cycle. Young lanternflies are black with white dots then develop a red coloration and wings as they reach adulthood. Spotted lanternflies reach maturity in the second half of the year and will typically lay eggs from September to December. We encourage our members to squash spotted lanternflies on sight to prevent them from reproducing and to report sightings of affected trees to the NJ Department of Agriculture.
What You Can Do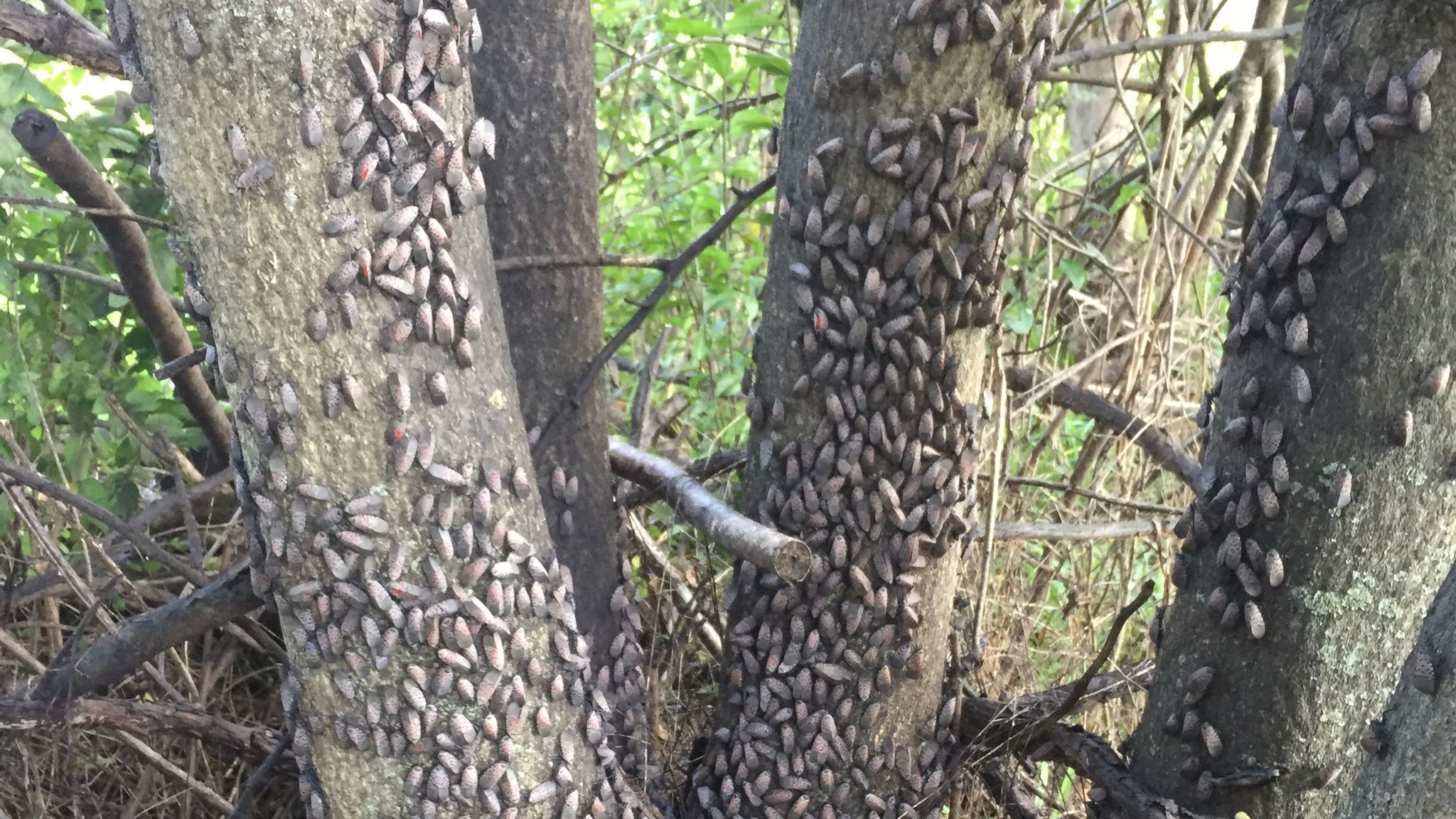 Both the emerald ash borer and spotted lanternfly are recognized as significant threats to New Jersey's ecosystems as well as utility equipment. For this reason, there are several public resources available to provide residents with information on these pests and to report sightings of infestations.
The NJ Department of Agriculture and the USDA provide online forms that can be used to report sightings of these bugs. For the benefit of our members, we have collected links to these forms as well as other resources on our website at www.sussexrec.com/pests. In addition to reporting methods, this page also includes detailed information on each pest, photos of each in various stages of their life cycle, and guides for homeowners on how to protect vegetation on their property.
When you come face-to-face with an emerald ash borer or a spotted lanternfly, there is also a simple solution that our members can take: squash that bug! While dealing with an infested tree is a more complicated concern where reporting the sighting is especially important, killing one of these pests before it can reproduce helps the effort to prevent them from running rampant on our ecosystem.
I hope you can join us in the battle to beat the bugs! Together, we can stomp out these pests, save our plant life, and make sure power keeps flowing. 
---