To view the full print/pdf version of Volume 1, Issue 2 of Currents, click here
For previous issues of Currents, visit our Currents Library
Know the Signs of a Scam
  By: Steve Sokolowski, Marketing Associate
Imposter scams are the number one type of fraud reported to the Federal Trade Commission. Utility consumers have always been favorite targets for scammers, but you may be surprised by how fraudsters have innovated in recent years. As consumers have become more reliant on technology for work, school, and commerce, scammers have updated their tactics and embraced new tech that helps obscure their true identities.
Common Types of Scams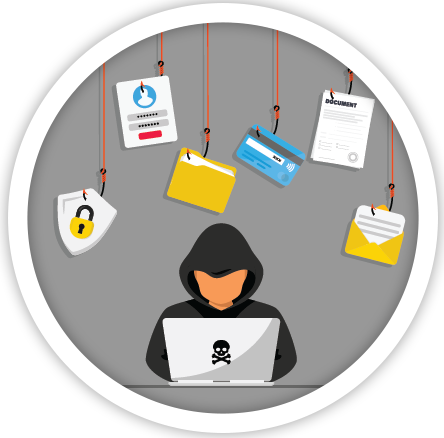 The most common scams we hear about involve a scammer calling SREC members, claiming they represent the Co-op and that the member is overdue on their electric bill. They almost always threaten to disconnect service if they don't receive immediate payment – giving the victim little time to question things. To make matters worse, scammers are commonly able to "spoof" phone numbers, meaning that the caller ID could display Sussex Rural Electric's information to make their lies more believable.
If you get a call like this, simply hang up. You can always call us at 973-875-5101 to verify if the initial call was authentic and to report an attempted scam so we may inform other members to stay alert. Older members are especially vulnerable to these types of imposter scams, so it is helpful to spread the word about potential scams as soon as possible.
If the scam is by email or text, it's best to delete it. These messages could be "phishing" attempts, aiming to get you to click a link which could expose your device to malware that steals your sensitive information or hijacks your device. If you're unsure about the status of your account with SREC, you can always contact us or use our online bill pay site, www.srecbillpay.com. Remember, SREC will never attempt to demand immediate payment by phone or email and will give more notice if you're facing disconnection.
Some scammers may claim you have been overcharged on your bill and say they want to give a refund. If you click the link they've provided, you may be prompted to provide banking or other personal information that can be used to drain your account or steal your identity! Confirm with us directly before assuming claims like this are true.
Scammers are always innovating. A recent Washington Post article titled "They Thought Loved Ones Were Calling For Help. It Was an AI Scam." detailed recent scam attempts made using voice impersonation through artificial intelligence.
Defend Yourself Against Scams
A good place to start is to be cautious of calls or texts from unknown numbers. Be suspicious of an unknown person claiming to be a utility worker who requests banking or other personal information. You should especially be suspicious if the caller asks for payment in gift cards or cryptocurrencies like Bitcoin. Scammers may request these because transactions can be harder to trace, but these are forms of payment SREC would never request that members use to pay their balance. In-person, never let anyone into your home that you don't know unless you have a scheduled appointment or reported a problem. Our employees carry ID badges and drive branded vehicles to prove they're with SREC.
We want to help protect our community against utility scams and you can help create the first line of defense! Call us at 973-875-5101 to report any suspicious interactions like these so we can spread the word and protect your fellow members.
---