To view the full print/pdf version of this issue of Currents, click here.
For previous issues of Currents, visit our Currents Library
Thank a Lineworker

  By: Chris Reese, President & CEO
Since the beginnings of rural electrification, the lineman has been an enduring symbol of the cooperative mission - reliable, adept, and united in the goal of empowering our communities. The image of a lineman atop a pole, 40 feet high, carrying heavy gear, and braving challenging conditions to keep members' lights on exemplifies all that we do. Our lineworkers work tirelessly to ensure our community receives uninterrupted power, 24/7.
The first lineworkers in Sussex County were responsible for creating the original infrastructure of our electric grid without the equipment or formal training that lineworkers have today. While modern technology and conditions have eased some of the physical challenges of linework, being a lineman is not a glamorous or easy profession. It takes years of specialized training, ongoing education, and, equally important, a sense of service and commitment. "Lineworker" consistently ranks among the most dangerous professions in the U.S. each year, due to the intricate tasks they must perform near high-voltage power lines, often in poor weather conditions. 
Despite the challenging nature of the job, career lineworkers demonstrate a dedication to their communities that truly sets them apart. This is part of the reason why each year, Sussex Rural Electric Cooperative and all electric cooperatives nationally honor our linemen on the second Monday of each April, Lineworker Appreciation Day.
Sussex Rural Electric Cooperative's linemen are a part of the community we serve. They may be your friends, your neighbors, or even members of your family. But when a powerful storm rolls into the area and damages equipment that keeps the lights on, these men are the ones who bear the responsibility of heading out into the night and setting things right. They work long, sometimes irregular hours, brave harsh conditions, and perform meticulous and perilous tasks in order to keep the rest of us comfortable. This is something that is often taken for granted.
If you have a lineworker in your life, or if you encounter one out in the community, I hope you'll join me in thanking them for their exceptional service. This is doubly true on April 12th, but isn't limited to that day. These men are always on call in case of an emergency – be sure to let them know you appreciate the service they provide you!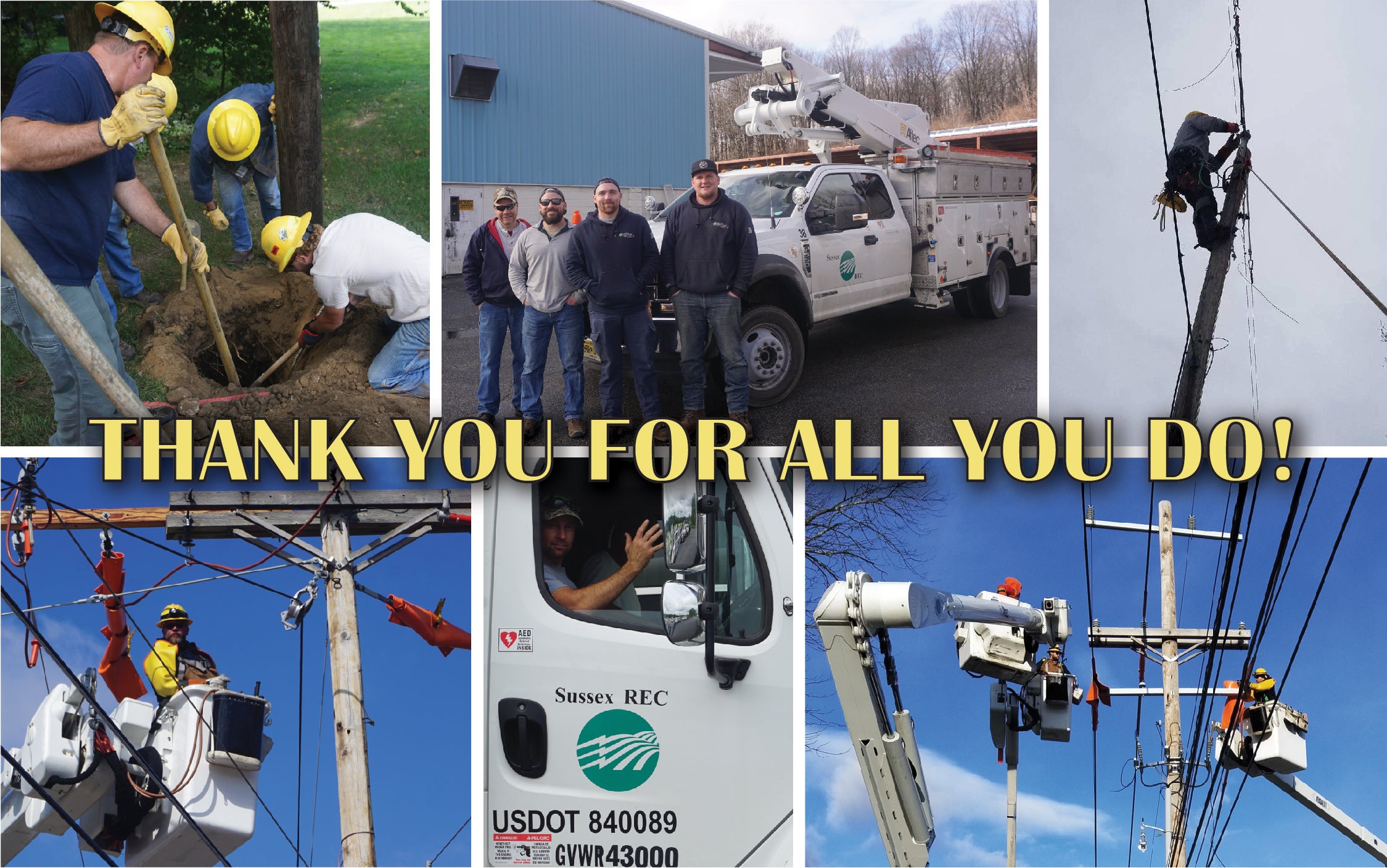 ---