To view the full print/pdf version of this issue of Currents, click here
For previous issues of Currents, visit our Currents Library
Off-Peak Savings
By: Steve Sokolowski
With the summer now in full swing, the summer heat is bearing down on us. The sudden need for constant air conditioning can create a dramatic increase in your home's electric use. In these uncertain times, it's now more important than ever to make sure that you are spending your money wisely. The best way to navigate this situation, without giving in to the heat, is to take advantage of off-peak rates.
Shifting to off-peak periods
"Off-peak hours" refer to the range of time during the day when people are using less electricity – the higher the demand for power at a given time, the more expensive it is to purchase and distribute. Electric rates based on time of use offer co-op members the ability to lower their electricity costs without reducing the amount of electricity used. By performing some of your daily chores like running the dishwasher or doing laundry during off-peak hours (such as in the early morning or at night), you can see meaningful savings on your energy bills. If you have a programmable thermostat, you can also adjust the settings so that your heating and air conditioning systems sync with the off-peak rate periods. Hot tubs, pool pumps, water heaters and other appliances have automatic timers so you can run them in the same way. Be sure to program the timers to coincide with the less expensive off-peak times.
Saving energy by taking advantage of off-peak times also contributes to keeping everyone's bill down by decreasing overall demand. This is why you'll see Sussex Rural Electric Cooperative call for our members to take voluntary conservation measures on particularly hot days in the summer. We do this on social media and by email for those subscribed to our email list. These messages are accompanied by cute pictures of animals trying to keep cool in the summer heat as a way to make these repetitive messages more interesting during extra hot weeks. We hope you enjoy these posts, and feel motivated to take part in the savings!
Beat the Peak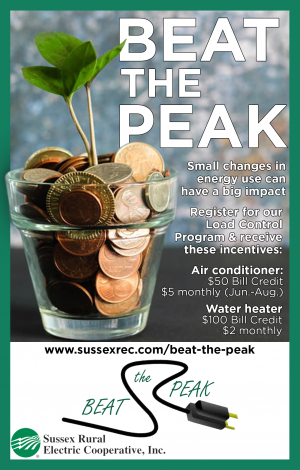 In addition to taking advantage of off-peak hours, participation in our Beat the Peak program will allow members to automatically conserve energy not just on days of high demand, but all the time. Those enrolled and participating in our Beat the Peak Program have DRUs (Demand Response Units) installed on their water heaters, air conditioning units, or ETS units, which can be automatically cycled or curtailed during peak hours to avoid usual electricity rates at peak times of day, instead running at times of less demand. Registering for Beat the Peak not only saves you money on energy use, but we'll also throw in a $100 bill credit!
I hope that these suggestions are helpful for all of our members in keeping bills low during the summer's high temperatures. Remember, your energy usage during peak periods affects other members. By working together and conserving energy when possible, we can come together as a community to support one another, which is what the Cooperative is all about!
 
---