To view the full print/pdf version of this issue of Currents, click here
For previous issues of Currents, visit our Currents Library
Introduction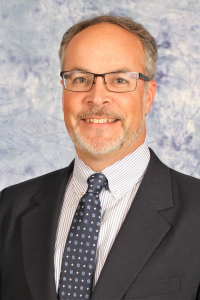 By: Chris Reese, President & CEO
Sussex Rural Electric Cooperative's Beat the Peak program has a long history of helping keep our members' rates low. Did you know that this program has saved PA/NJ co-op members $155 million over the last 35 years? In this month's issue we share a column from Kathy Hackleman of Penn Lines highlighting the history of this fantastic program.
Coordinated Effort
By: Kathy Hackleman, Senior Editor/Writer, Penn Lines Magazine
If you could save around $155 million in 35 years, you would undoubtedly jump at the chance. Working together, that's about how much money the 14 electric cooperatives across Pennsylvania and New Jersey have saved their members since 1986 when they established the Coordinated Load Management System (CLMS) in conjunction with their wholesale power supplier, Allegheny Electric Cooperative, Inc. (Allegheny).
The CLMS program shifts the use of electricity by residential water heaters and other electric equipment from times of peak demand during hot, humid summer afternoons or cold winter mornings — when electricity prices are at their highest — to off-peak hours in order to save money for cooperatives. When electric cooperatives save money, they pass those savings along to their members.
"Cooperatives are based on the principle of cooperation among cooperatives, and this is the perfect example to demonstrate that principle," says Pennsylvania Rural Electric Association (PREA)/Allegheny President & CEO Frank Betley. "Cooperatives work together through the CLMS program to serve their members in the best way possible. This program was developed for only one reason: to help keep the cost of energy as low as possible for the electric cooperative members. This year, as we are observing the 35th anniversary of the program, it continues to save money for the members."
Load management — sometimes known as "demand response" — is a natural fit for not-for-profit cooperatives, which exist to provide their owner-members with reliable electricity and services at an affordable cost. As part of this effort, cooperatives in Pennsylvania and New Jersey formed Allegheny in 1946 to be their wholesale generation supplier.
Despite efforts to develop practical ways to store electricity, technology still requires most electricity to be produced for immediate use, which means generation plants must be able to meet the needs of all electric consumers at all times. Allegheny meets the electricity needs of all of the members of the electric cooperatives across the two states through a variety of means. Allegheny has a 10% ownership share in the Susquehanna Steam Electric Station, a nuclear power plant near Berwick, Pa., and also owns the Raystown Hydroelectric Project near Huntingdon, Pa. Together, those generation sources, along with long-term contracts with the New York Power Authority, provide about 70% of the electricity needs of the 14 cooperatives. The remaining electricity required to meet the requirements of the cooperatives is purchased on the open market. That's the part that can vary widely in price if use during peak periods is not curtailed.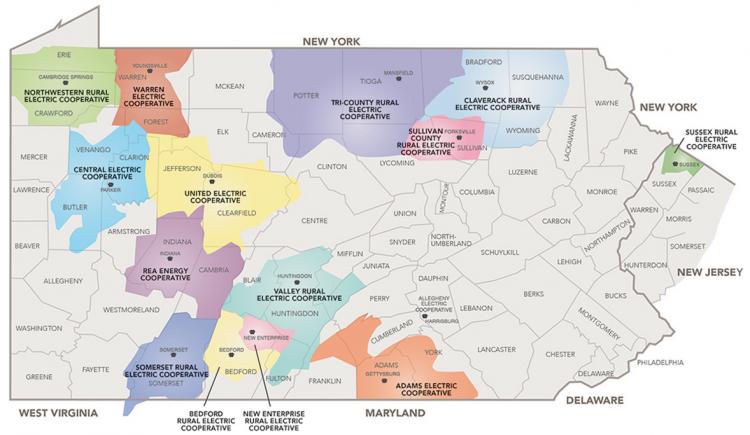 Long before "energy efficiency" turned into a popular catch phrase, Allegheny and its member cooperatives realized the cheapest kilowatt-hour of electricity is the one that is never generated, so they took steps to establish the CLMS program to cut down on costly purchases of electricity in a way that seldom, if ever, disrupts their members' lives.
"Back in the 1970s, Allegheny staff realized that if cooperative members would shift their use from times of peak demand to off-peak hours, there would be a significant financial benefit to all members," explains Todd Sallade, PREA/Allegheny vice president — power supply & engineering. "Through the CLMS program, which operates approximately 45,000 load control switches, Allegheny is able to significantly reduce the cost of electricity to local distribution cooperatives, which in turn reduce the costs to their members. This benefits every cooperative and every cooperative member within the two-state area, even the members who do not participate in their cooperative's load control program."
After a successful pilot program, Allegheny formally established the CLMS program with the 14 NJ & PA co-ops. Across the two states, there are approximately 45,000 load control receivers installed in the homes of volunteer cooperative members (about 20% of all members). There is no charge to participate and no action required on the part of the member once the receiver is installed.
"To reach our ultimate goal of reducing wholesale power costs for the cooperatives and their members, we want to reduce as much load as possible during peak periods so that the overall amount of megawatts we have to purchase on the open market is as low as possible," says Rich Geosits, PREA/Allegheny manager, power delivery.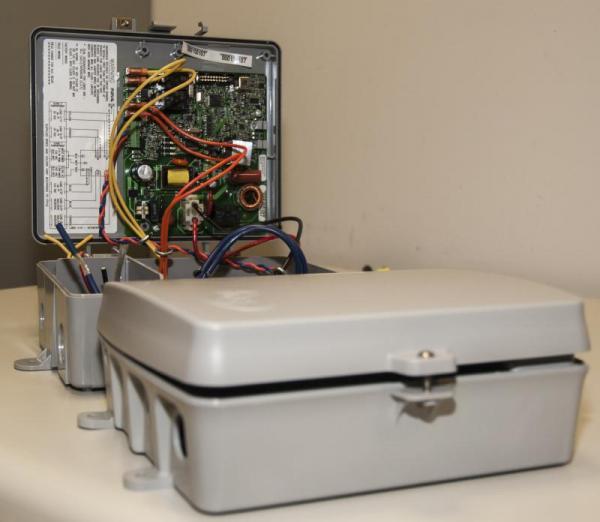 Several things can affect the need for load control on any given day, including output of power plants around the region, cooperative loads and weather.
"We have an established set-point, and when the load level reaches that point, one of the operators makes a decision to control the load based on real-time information, weather forecasts and historical data about similar situations," says Tony Vincik, PREA/Allegheny manager, energy management systems. "The operator then determines the kilowatt reduction needed and downloads that information to the cooperatives. When the time arrives to begin load control, a computer at each cooperative signals volunteers' water heaters and other equipment on the load control system to shut down. Cooperative members typically don't even notice when their water heater is off for a few hours because they retain heat for so long."
A load control program is all about saving money for members. It keeps purchasing costs low for the co-op, benefitting members by keeping energy costs down.
How does Sussex Rural's CLMS program work? When you enroll your electric water heater or air conditioner in Beat the Peak, we will have an employee install a load control receiver device known as a Demand Response Unit (DRU) on your appliance. This device allows your Co-op to remotely switch your appliance on or off as needed.
The best part is that members typically will not even notice that their device is switched off. Electric water heaters are incredibly efficient at storing hot water and  air conditioners are cycled on and off in intervals of about 20 minutes. Control periods usually take place during the afternoon, so members who are out of the house during the day will have a good way of reducing wasted energy consumption while preventing their home from getting too hot.
This is a tried and true program with 35 years of history. We can save even more money if more members sign up to participate. If you'd like to enroll you can visit www.sussexrec.com/peak. Participating in this program will earn you promotional bill credits AND you'll be doing your part to help all of our members save!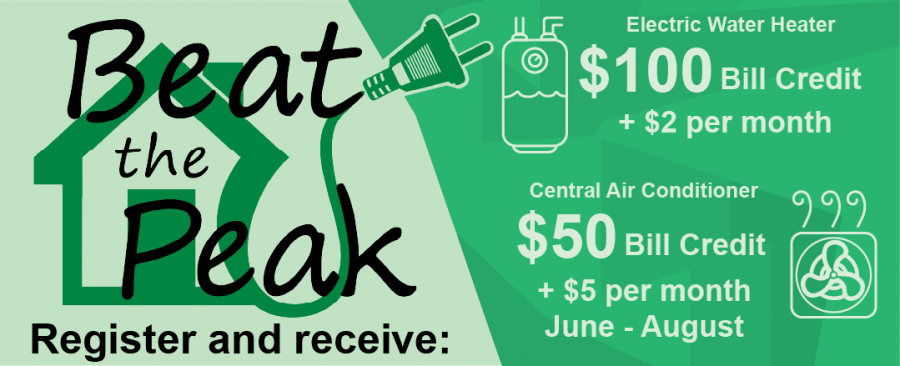 ---